Leaving a gift to St Peter's Hospice
If you have decided to leave a gift in your Will to St Peter's Hospice – thank you. By choosing to leave a gift in your Will, you can be sure that your generosity will help to provide vital care for patients and their families, supporting them and giving comfort through the most difficult of times. A gift in your Will of any size could make all the difference in keeping our Hospice services running for families across Bristol and the surrounding areas.
To write or update your Will for free, you can use Farewill, our online and telephone Will writing service. As a Hospice, we know that making a Will is very personal to you and you will naturally want to think of your loved ones first. After making sure your loved ones will be well looked after, we would be delighted if you felt able to leave a gift to St Peter's Hospice.
If you are considering leaving a gift in your Will to St Peter's Hospice, but would like some further information, you can request our Gifts in Wills Guide or ask any questions using the form below.
Why a gift in your Will means so much
Every one of us at St Peter's Hospice, from Sarah the consultant to Bill the driver, is devoted to bringing comfort and peace to patients and their loved ones. But it costs approximately £25,000 a day to provide that extraordinary level of care and dedication.
A gift of any amount in your Will, whether it's a cash sum or a percentage of your estate, will help ensure we are here for families in the years ahead. The care of 1 in 4 of the people we support is paid for by these extra-special gifts.
Our promise to you:
If you're able to support us with a gift in your Will, you'll join Emma, Sarah and Bill as part of the St Peter's Hospice family. And that means we'll make you some special promises:
Your gift will be used to provide the loving care and sense of family that loved ones deserve in their final days
We respect your privacy, so you won't have to tell us your decision
We'll do all we can to help you make or update your Will, if that's what you'd like
If you'd like guidance on the effects of Inheritance Tax, we can help with that too
It's up to you whether or not you receive regular updates about the care we provide
You're welcome to visit us any time – just let us know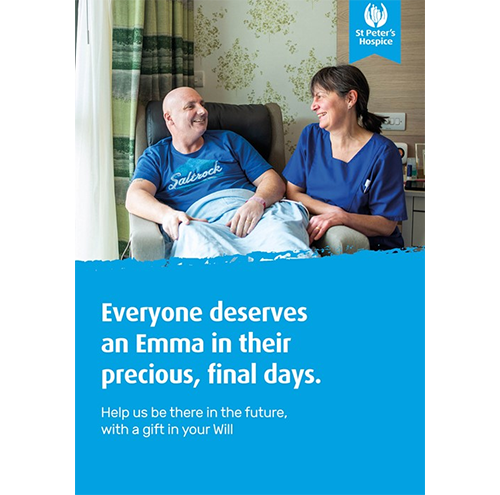 Emma is more than a nurse to Marcus in his final days. She is his friend. By leaving a gift in your Will to St Peter's Hospice, you can make sure this wonderful sense of family carries on long into the future.
Sponsored by