Every one of us at St Peter's Hospice, from Sarah the consultant to Bill the driver, is devoted to bringing comfort and peace to patients and their loved ones. But it costs approximately £24,000 a day to provide that extraordinary level of care and dedication.
A gift of any amount in your Will, whether it's a cash sum or a percentage of your estate, will help ensure we are here for families in the years ahead. The care of 1 in 4 of the people we support is paid for by these extra-special gifts.
Supporting care now and in the future
A Gift left in a Will supports local hospice care now – and for years in the future. Mr E very kindly left a gift of £66,000 to St Peter's Hospice. Here's how his generosity delivered – and is still delivering – vital care to local people.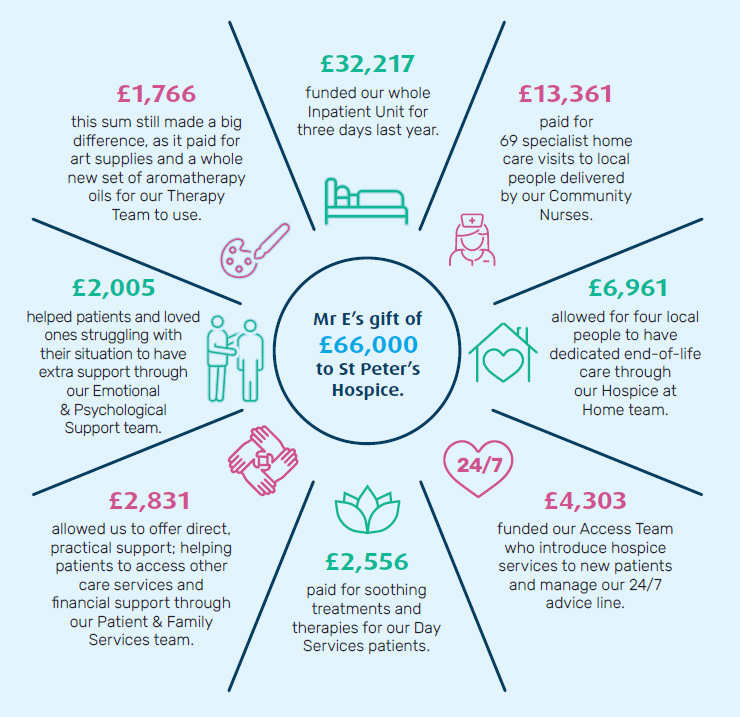 Our promise to you
If you're able to support us with a gift in your Will, you'll join Emma, Sarah and Bill as part of the St Peter's Hospice family. And that means we'll make you some special promises:
Your gift will be used to provide the loving care and sense of family that loved ones deserve in their final days
We respect your privacy, so you won't have to tell us your decision
We'll do all we can to help you make or update your Will, if that's what you'd like
If you'd like guidance on the effects of Inheritance Tax, we can help with that too
It's up to you whether or not you receive regular updates about the care we provide
You're welcome to visit us any time – just let us know