Saddle up and get ready to pedal our longest cycling challenge yet, from the doors of St Peter's Hospice to the majestic city centre of Paris. Four days, over 400km, and all to raise funds for Hospice care.
Starting in Bristol in spring, you'll pedal your way through England's countryside lanes, take a ferry over the channel, and pedal across scenic France before finishing in Paris at the Arc de Triomph and iconic Eiffel Tower.
Whether you're a cycling enthusiast or new to the saddle, this challenging ride is a bucket-list worthy cycle to take on. Everyone will be pedalling for the same cause, so this is your chance to directly impact the lives of patients facing the hardest of times with the money you raise.
Are you ready to...
Or would you like to...
Costs and Fundraising 
It costs £250 to register, which is split into two payments, and we ask that you raise a minimum of £1,750 to support the work of the Hospice. This amount could fund around 50 hours of care for a Hospice patient.
You'll need to raise 80% of the total (£1,400) by Feb 2024 to have your place confirmed, and the full total must be raised by the end of June 2024. 
Our fundraising team will be there to help every step of the way, providing resources, advice, and ideas so that you smash that target in no time. The brilliant total that you raise and donate will support people in the Bristol area to get the Hospice care they deserve at the end of their lives.
Every member of the team completing this challenge will be doing it for St Peter's Hospice.
Global Adventure Challenges
We're thrilled to be partnering with the highly experienced company Global Adventure Challenges once again to create this bespoke challenge. They are a challenge event company who provide charity challenges for those seeking adventure, whilst contributing to a worthy cause. You can read more about them at on the Global Adventure Challenges website.
BW Cycling
Renowned cycling expert, Oli Beckingsale, is supporting the Bristol to Paris cycle. Oli is a highly accomplished British mountain biker, having represented GB at the Olympics and World Championships.
Oli and his bike shop BW Cycling, will be on hand to make sure you have the best knowledge and training to make it an incredible journey. 
Location
Start at St Peter's Hospice, Brentry and finish at the Eiffel Tower, Paris
Date
15-19 May 2024
Costs
£150 registration, £100 payment in Feb 2024
Fundraising target: £1,750
Information Evening
We held an online information evening on 16 May 2023. Get in touch if you would like to view the recording.
Contact
Hayley, events@stpetershospice.org 01275 391400
Clemi, corporate@stpetershospice.org 01275 391400
Brothers' epic challenge in memory of their Dad, Ewan
"This is a personal challenge for us all as no one's ever cycled that far in our team before and it's a fun location to end up in. We hope to raise funds for the Hospice so that other patients and their families can have the care they deserve at a particularly challenging time for all."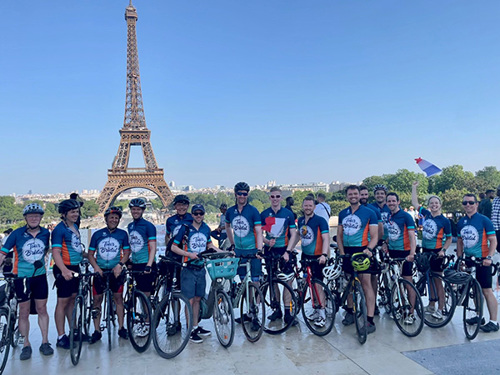 Find out more