What a day! A huge thank you to our brilliant team of Cold Water Dippers who braved the chill this year. Over 100 people took on the challenge and so far they have raised over £22,000 together!
Thank you to the following for making it such a special day:
Thank you to Portishead Open Air Pool for hosting and looking after everyone
Thank you to dryrobe for donating some warm goodies including our lovely hat
Thank you to Almost Synchro for kicking off the day with such an amazing performance
And thank you to all the fantastic volunteers and supporters who cheered on the swimmers despite the cold
See you next year!
Pay in Fundraising
If you have collected any sponsorship money to pay in, you can either send us a cheque to the fundraising office in Long Ashton or pay it in through our website by selecting it's for the Cold Water Dip. 
Photo Gallery
The event was captured brilliantly by our photographer on the day. Take a look at our photo gallery and see if you can spot yourself!
Ready for 2024?
If you're missing the chill already, sign up and be among the first to know about next year's event.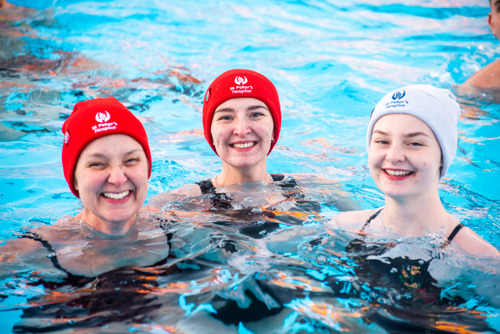 Location
Portishead Open Air Pool, Esplanade Rd, Portishead, Bristol BS20 7HD
Date
02 Dec 2023
Entry fee
£20 
Group discount: 15% off entry fees when registering 6 or more participants in one booking 
Start time
Join us from 2pm, ready for the Dip to begin at 3pm
Restrictions
The minimum age is 16 years old.
If you have an underlying medical condition including, but not limited to, any heart condition, low / high/ erratic blood pressure, any respiratory condition or if you are pregnant you should seek medical advice before registering for this challenge.
Please read the full terms and conditions for taking part in this event.
The Horts Hunnies take part in the Cold Water Dip
Gemma tells us why she's braving the chilly water in memory of family members including her father-in-law John.