Tour de Bristol raises over £100k for the Hospice
20 Apr 2023
Fundraising Stories
We're delighted that this year's Tour de Bristol has raised over £100k.
The sun came out for our 1,200 riders on 15 April as they set off from the Centre for Sport at UWE riding distances of 40km, 65km and a staggering 100km through the Bristol and Gloucestershire countryside in aid of the Hospice.
Many people rode in teams such as race veterans Bike for Mike and the aptly named Wheely Oldies. One competitor, Jim, aged 90, was in a category of his own. The former PE teacher rode the race with his daughter Louise, completing the 40km circuit in three hours and 15 minutes.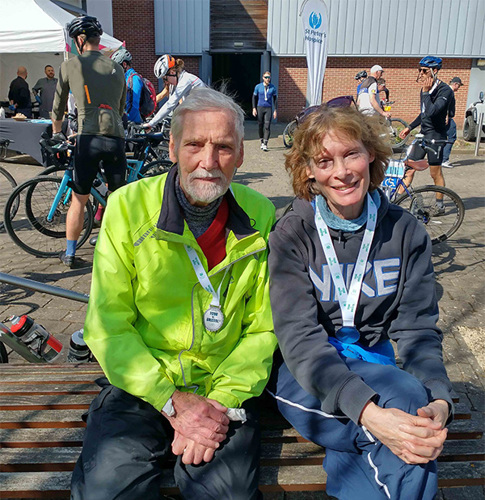 Jim and Louise
Riding in memory of his wife who received treatment from the Hospice, Jim said: "I don't think there are many 90 year olds doing it. Two years ago I was the only person in the 80-90 year group but a young one – an 80 year old I think – came in last year, so then there were two. This year I've moved up a group so I'm now in the 90-100 age group so I'm hoping that there's no one else there!"
Husband and dad of three, Mike from Westbury-on-Trym, was cared for by the Hospice when he was diagnosed with bladder cancer. His family and friends take part every year in Tour de Bristol in his memory as team Bike for Mike. Johnny, Mike's son said: "The Tribute Fund was set up to fundraise for the amazing work that the Hospice did in the final weeks of our Dad's life and the support that we as a family were given. It was hugely valuable to us and made an incredible difference to his quality of life.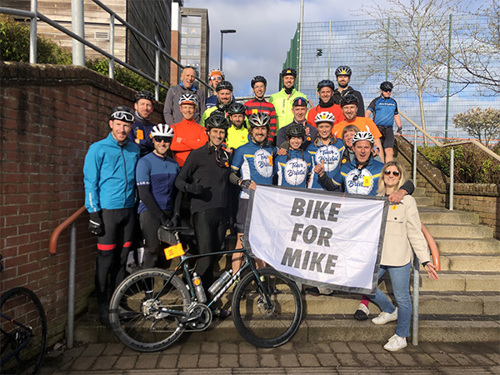 Team Bike for Mike
"We've raised over £42k for the charity so far. The event is a nice way to reconnect with people and I would encourage anyone to get involved."
A big thank you goes to the event headline sponsor, The Bristol Port Company. David Brown, CEO, said: "Sadly, the Hospice has been a huge friend and comfort to a number of our employees and dependents in their final days of life. Through supporting this event we can continue to fund the fabulous work that Hospice staff provide for the people of Bristol."
Tour de Bristol is now in its ninth year and is in touching distance of raising £1 million in total for the Hospice. It's a magnificent sum that will help to provide vital funds for patient care during the most difficult of times.
Hospice Director of Fundraising & Communications, Sarah Allen-Gunn said: "This year's event was one of the best yet. We're incredibly grateful to each and every one of the 1,200 participants who signed up to take on the challenge in aid of the Hospice. Not only did they put in the gruelling miles on the day, but many of them did a great deal of training in advance. On top of that, they all fundraised incredibly hard to help us reach the £100k target. In the current cost of living crisis, when people have less to give, we have been overwhelmed by people's support and generosity."
If you'd like to take part next year, you can already register your interest for Tour de Bristol 2024:
Back to News