Family business raises £100,000 for patient care
21 Jun 2022
Fundraising Stories
One local business has turned heart-breaking loss into a mission to help make sure patients and their families get the help they need from the Hospice.
The Jeff Way Group, a local electrical contractor, building services company and training school, was founded by Jean and Jeff Way. After Jean's brother Steve needed hospice care in 2008, they began fundraising at Knowle Golf Club, and their annual Golf Day there still raises thousands. When Jeff and Jean both needed care themselves, St Peter's Hospice was there.
"The Hospice at Home service cared for both my parents, and I don't know what we would've done without it, to be honest," says Chris Way.
Jeff and Jean's three children Chris, Jennine and Neil all work at the company today – and they've carried on the family tradition of fundraising for the Hospice.
"I was a trustee for the Hospice before Mum and Dad passed away," Chris told us, "and we've been fundraising since 2013, with many different events: The Three Peaks, London Marathon, numerous golf days. The Rugby March evolved out of a walk we did with our Dad in memory of Mum at Ashton Gate, and we support the event, and take part too."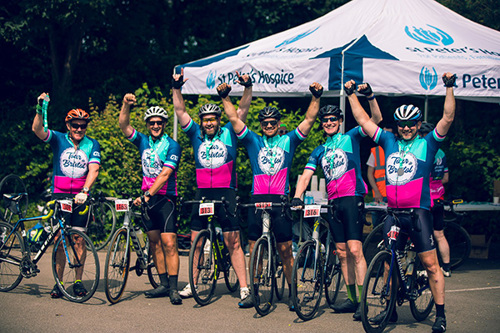 "I'm very proud, but we didn't do it on our own – lots of people in the business, friends and family, so many with their own personal connection the Hospice. All the events we do are good fun too, so it's no hardship."
This year, the company's total fundraising for St Peter's Hospice hit an incredible milestone of £100,000.
What's next for the Jeff Way Group's super fundraisers?
Chris says: "We're not going to stop at £100,000. We do Tour de Bristol every year, and I'm taking on Land's End to John O'Groats with my brother and cousin in July. We're so appreciative of the help the Hospice gave us, and we don't know what we'd have done without it – so they'll always have our support."
More about Corporate Fundraising
Back to News