Toby's Bearathon season is over: we salute you!
06 Jul 2022
Fundraising Stories
Eleven-year-old schoolboy, Toby Fletcher, completed his Bearathon challenge in style on 5 July and received a huge welcome from his family, Hospice staff and Bristol rugby.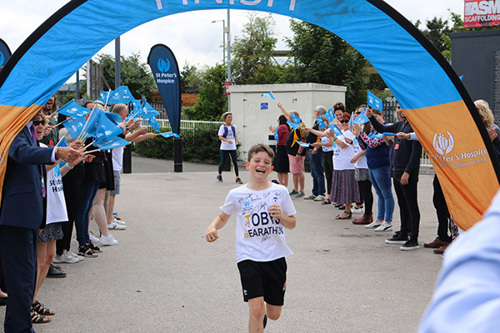 Bristol Bears fan Toby – who plays for Frampton Cotterell RFC – has been running one kilometre for every point conceded by Bristol during the rugby season to raise funds for the Hospice, who looked after his rugby-mad, Nanny June after she was diagnosed with cancer.
Toby has raised more than £20,000 on his Bearathon challenge which began last Autumn. It's been a big ask for a young Bears supporter as Bristol Bears haven't had the best of seasons this year and Toby reckons he's run 718km in total - the equivalent of running from Bristol to Germany - sometimes in rain, storms, and hot weather.
Preparing for his final run, Toby arrived at the Hospice in Brentry where he was surprised to be met by Lenny the Hospice mascot, and the nurses and doctors who had turned out to thank him for his endurance and effort, and wave him off on the last leg of his epic challenge. Toby set off flanked by a Hospice nurse, travelling the 10km from Brentry across the Downs to the Bear's Ashton Gate Stadium.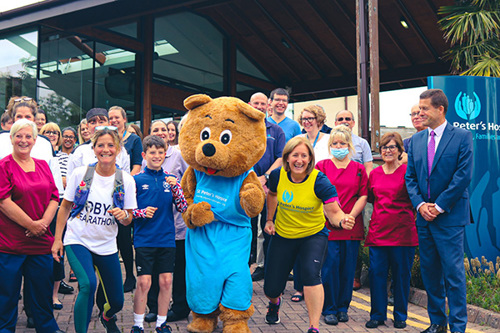 Arriving to cheers and applause Toby was met by many of the Hospice and Ashton Gate team, Bristol Rugby supporters and his hugely proud family.
Pitch side, Chief Executive, Frank Noble presented Toby with a Bristol Blue glass Rugby ball sculpture to mark his achievements and a giant tub of Haribo Tangfastics (his preferred choice of sweets!) Toby was then surprised by his favourite Bristol Bears player, Fitz Harding with a special cake where he is sitting under a goal post in this season's shirt.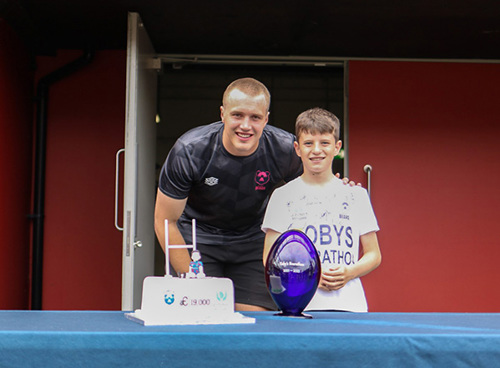 As well as the effort, Toby has had fun along the way too. He ran with rugby legend Joe Joyce, was thanked for his efforts by former Scottish International player, Thom Evans on The One Show, he has met all the Bears players in the changing room and run around the pitch at half-time with fans cheering for him.
Now with the challenge coming to an end, Toby says: "I'm excited about finishing my Bearathon but also looking forward to the rest and watching Bristol without worrying about the score."
Toby's mum Claire has been supporting him every step of the way. Claire said: "As a family we are incredibly proud of what Toby has achieved, not only has he raised an amazing amount of money but he's inspired other young people to take on challenges and go that extra mile.
"There have been so many times he hasn't wanted to run but the support he's received from friends, family and most importantly, the rugby community have given him well needed boosts during the challenge. He has loved the support from the Bristol Bears players and staff and cannot wait to cheer them on next season."
You can donate to Toby on his JustGiving page, and keep up with all his latest adventures on Twitter.
Back to News