Six go skydiving! Why one family took the leap together
21 Feb 2022
Fundraising Stories
After her mum was looked after by the Hospice in 2020, Micheline and her family wanted to do 'something joyous' to celebrate her life and raise funds for patient care. What better way than a family skydive?
"Mum had been in and out of hospital for a while before she was diagnosed with lung cancer and needed palliative care. A lovely nurse came out from St Peter's Hospice and talked to mum about her choices and what she wanted to do. She decided that she did not want to go back into hospital and wanted to stay at home. We had the support of Hospice at Home for a few days and nights, which was a great help and a big relief.

"The Hospice accepted mum into their care – the first night one of my brothers stayed overnight – and the family were able to visit; my mum's youngest sister travelled down from Norwich to see her. Tony, Mum's husband, would go every day to spend time with Mum; he'd sit the in the chair beside her and quite often you'd find them both napping. He was able to visit her and they could both enjoy each other's company without any pressure. It was such a weight from everyone's shoulders, and we can't praise the Hospice enough for all the care and support that we all received.

"She died on the second day of lockdown, 24 March 2020. It was a difficult time to hold a funeral, and we all had to go home separately after which was really hard. We set up a Tribute Fund in mum's memory so that people could share their memories and donate to the Hospice if they wanted to. My younger brother Adam wanted to do something joyous to celebrate Mum's life and to raise funds for the Hospice. My children Katie and Samuel are adrenaline junkies, so the idea of a skydive was perfect for them!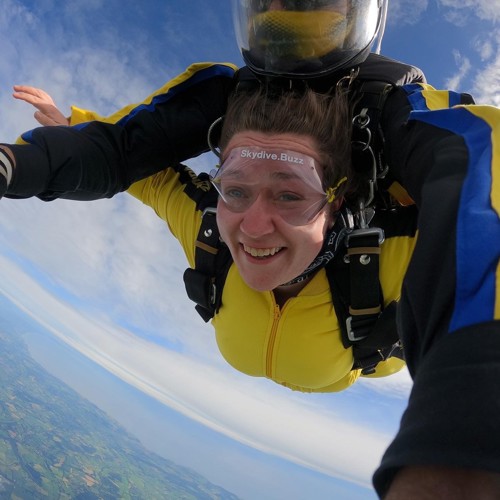 "Six of them jumped all together – Adam and his daughter Adina, my children Samuel and Katie and my nephew Lewis and his co-worker Steph. It was a beautiful day - the sun shone - and the jump was on Tony's 80th birthday so that made it seem more special. Everyone enjoyed it.

"My daughter bakes and she sold Easter boxes of cookies to our community to raise the money for the jump. My son bakes too and sold boxes of brownies at work to raise funds. Everyone was very generous, and together we raised over £4,000 for the Hospice.

"To anyone thinking about taking the leap - go for it! It's a wonderful experience and it was so good to raise the funds for the Hospice."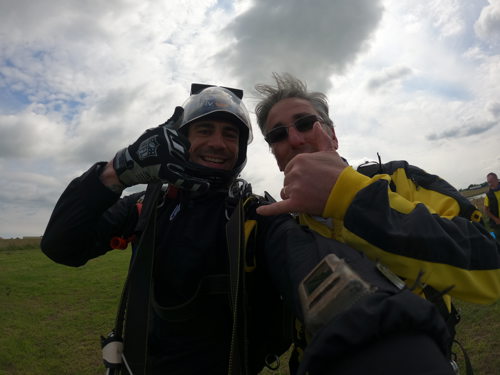 Could you take the leap for patient care?
You can sign up to one of our group jumps in March, May or September, or pick a date of your choice. Book your slot soon and you could claim one of our first-come-first-served free jumps - raise £500 and you only pay a deposit!
Back to News