Toby's Bearathon: one young rugby fan's incredible fundraising feat
26 Apr 2022
Fundraising Stories
What were you getting up to when you were eleven?
Chances are, you weren't out running almost every day to raise money for your local Hospice – but that's exactly what Toby has been doing since September 2021. Toby's Bearathon sees him running a kilometre for every point conceded by Bristol Bears this season, with the support of his mum Claire and hundreds of sponsors.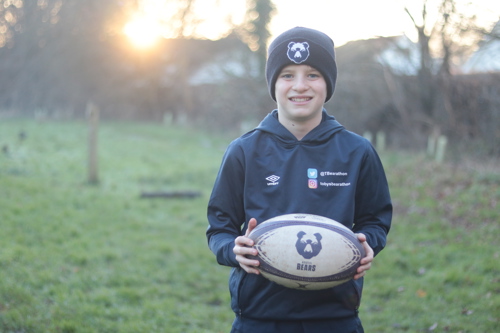 "Last year I did a charity run where I ran a marathon in ten days," Toby told us. "We thought this wouldn't be that much further - but I've now run 318km, and I'm only halfway through! Once I had 52km to run in just one week. It's not easy getting up and doing it every day, but knowing I'm doing it for a good cause helps me keep going."
Why Bristol Bears?
Toby's Nanny June was a huge Bears fan and took Toby to matches, bought his kit, and took him out for burgers with the family. After she died, turning her beloved sport into fundraising for the Hospice seemed the perfect tribute.
Toby's mum Claire and her sisters Emma and Laura have fond memories of June as the entertainer, who put family first and was happiest when she was making everyone around her laugh.
"She was in the Hospice first for pain relief, and it made her feel so safe and comfortable," Claire remembers. "The staff helped to get her home for one last family Christmas, and she went back into the Hospice again at the end."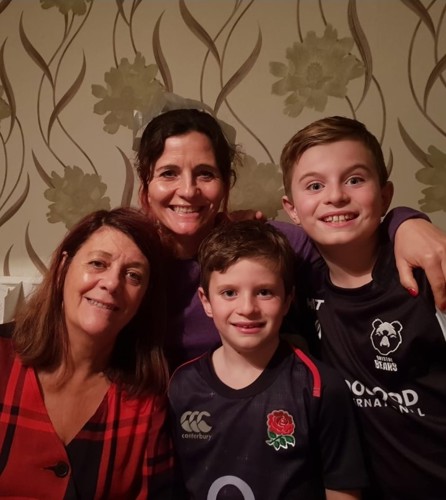 From left: June, Claire, Toby and brother Barney
"It wasn't like she was a patient: she was more like a friend of the teams there."
"As well as treating her medically, they took the time to get to know her, talk to her and have fun. She loved her rugby, so the Hospice arranged for us to watch the Six Nations kick off with her. We had a big TV, snacks, a buffet (with flying saucer sweets, her favourite!).
"Laura and Emma and June's husband Geoff stayed overnight. When Geoff was admitted to the Hospice himself eighteen months later, everyone remembered him.
"I'm very proud of Toby. It does take a bit of encouragement from me and his dad, but he knows he's doing a good thing. I would hate the thought that another person's parent couldn't have the Hospice. You don't appreciate it until you spend some time there. They knew her. It's the little things: times when we'd walk in and they were talking to her even though she couldn't hear; gave her her knitted toy to hold. The medical staff and the volunteers are fantastic."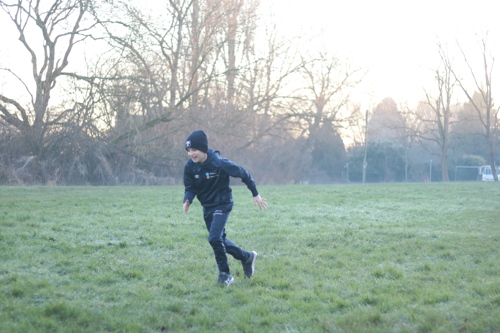 Toby's Bearathon has already raised over £15,000 for patient care, over 200% of his original target. 
You can donate to Toby on his JustGiving page, and keep up with all his latest adventures on Twitter.
Back to News