Midnight Walk for the Hospice turns tropical
30 May 2022
Fundraising Stories
Celebrating 13 fabulous years of bringing The Midnight Walk to Bristol, our fundraisers are giving this year's event a tropical twist.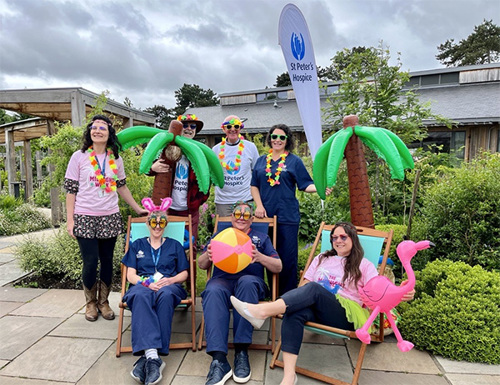 The popular night time sponsored walk takes place on Saturday 18 June 2022. It's an opportunity to have a great night out while raising vital funds for local people who have a life-limiting illness and their families who are cared for the Hospice.
We were severely impacted by the effects of the pandemic and faced financial uncertainty, however things are now returning to normal. Our shops have reopened, live events are taking place, volunteers have returned to the Hospice Inpatient Unit and visitors can enjoy a cake once more in the café at the Brentry site.
Chris Benson, Director of Patient Care says: "The last couple of years have been a significant challenge for the Hospice, but most importantly for our patients and their families. Caring for a loved one who is very ill is always very stressful but coping with those pressures during a pandemic when health and social care has been so under stretched makes it so much harder.
"We know that there are still many challenges in healthcare, but we are very pleased that the Hospice is now in a position that we can start rebuilding some of our services that have been impacted by the pandemic such as drop in's, in person support and groups for patients and carers, and re-open our five closed beds. Whilst we have been able to support visiting throughout the pandemic, we are very happy that we are now opening up our hospice building more, and will also aim to be offering more services in the community."
The Midnight Walk starts from 8.30pm with an energetic warm up in Millennium Square. The teams set off for a five or ten mile route taking in the view of some of the great sights of Bristol including the SS Great Britain, Clifton Suspension Bridge and the Harbourside before dancing the night away at a silent disco. The organisers hope to raise £30,000 from the 2022 event.
Throughout the years there's been great support from groups stepping up for the Hospice including the Wonder Widows, Julie's Angels and Team Wudzi. Gemma Rosenthal's mum, Lesley, is walking with the Hort's Hunnies this year.
Gemma says: "Over the years me, Mum, Carly and our family and friends have taken part in several Midnight Walks to help raise vital funds for the hospice. It's a great night out, seeing the lovely sights of our beautiful city.
"Our first Midnight Walk was in 2012, only a few months after my Dad, Tony Horton passed away at St Peter's Hospice, following a short battle with pancreatic cancer.
"It was during this incredibly difficult time for Dad and us as a family that we realised how special the Hospice was.
"As soon as Dad was admitted, he seemed calmer and most importantly, comfortable. Nothing was ever too much for the staff or doctors, nurses, healthcare assistance and reception team. The Hospice gave my Dad the dignified final days that he deserved, surrounded by his family.
"Sadly, only a few years later my Dad's Mum, Joan, became ill and was offered a bed at St Peter's Hospice. From the moment she was taken in, the staff remembered her, speaking about Dad and generally putting her at ease. She ended up being at the Hospice for a few weeks and actually passed away in the same room as Dad did, which brought us some comfort.
"Fast forward to January this year and Carly, my younger sister was admitted to hospital with complications due to an earlier diagnosis of incurable secondary breast cancer. When Carly was told that there were no other treatment options for her, we knew immediately where she'd want to be. She had made her wishes known before and after speaking to a hospice nurse over the phone, Carly was moved from the BRI to St Peter's within 24 hours.
"Carly passed away in January this year, aged just 38. It was an incredibly sad time for her partner Mark and 15-year-old daughter but the team at the Hospice offered ongoing support for them both."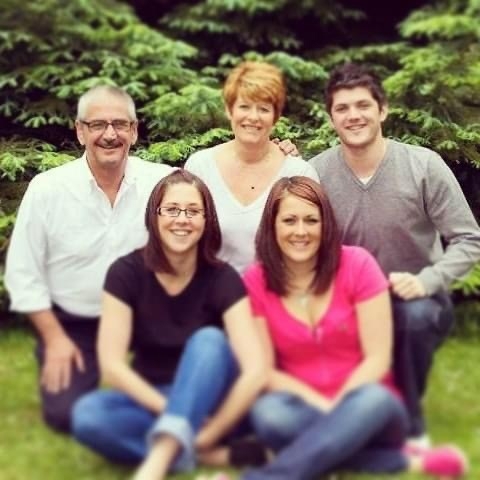 The Horton family
All care services are provided free of charge for patients and their families at the hospice. This care costs around £25,000 a day. Every step taken at The Midnight Walk makes a difference for the patients and families who need the care of St Peter's Hospice through the most difficult of times, day and night.
Back to News