Hospice gets £10k boost from Bristol Waste
02 Aug 2022
Fundraising Stories
Bristol Waste have helped patients and their families in Bristol by donating £10,000 to the Hospice.
Our Chief Exec, Frank Noble, met with Bristol Waste staff at their new Reuse shop in Hartcliffe to thank them for their phenomenal support. He was presented with a giant cheque for £10k by Cllr Kye Dudd, Bristol Council Cabinet Member for Climate, Ecology, Energy and Waste, Jo Dainton, Bristol Waste's Reuse Shop Manager and Isis Ediker, Hartcliffe Way Reuse Shop Manager.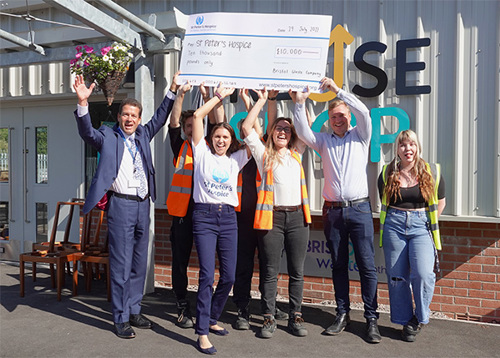 Bristol Waste Managing Director, Jason Eldridge, said: "Our staff voted to support St Peter's Hospice as it is a cause close to many of our hearts. We're incredibly proud of the hard work we do to reduce waste and make Bristol a more sustainable city - we're even prouder that funds raised through it can support people and families when they need it most.
"Our reuse work has gone from strength to strength, from a single pop-up event to three shops - one in each of our three recycling centres across the city. The shops are a real community story; volunteers help save unwanted items from going to waste, residents can buy affordable goods, and the money raised goes to support a charity providing care to patients and their families in Bristol."
More about Corporate Fundraising
Back to News