Creative corporate fundraising from C2FO
16 Mar 2022
Fundraising Stories
Global online platform for working capital C2FO is dedicated to supporting the communities in which they live and work around the world, and the Bristol team are no different. They've chosen three local charities they want to support continuously – one of them being St Peter's Hospice.
'We selected these organisations with the goal of building long-term relationships with them. We plan to help them financially as well as with our time and expertise,' said Gareth Marshall, Vice President of Operations for C2FO in Europe.
Fundraising efforts have included a Halloween fun day where the team dressed up, slimed their boss, held competitions and sold cakes. The company also donated the total revenue generated on a selected day to their chosen charities.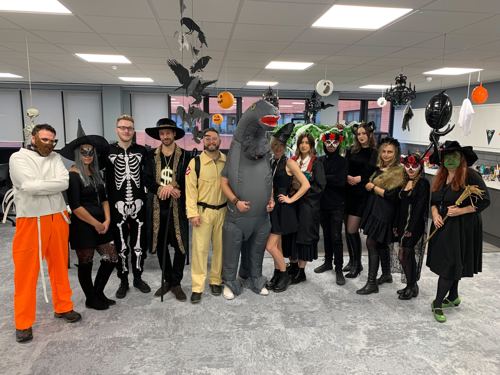 In total, their fundraising for St Peter's Hospice in 2021 reached £6,279.23 – a fantastic effort, and a much-appreciated contribution to patient care.
That's not the end, though. C2FO are continuing to support the Hospice in 2022, including volunteering in the distribution centre and garden, and taking part in events like the Rugby March. One team member is also abseiling to raise money – and since they can see the building from their office, they're sure to have plenty of support.
Are you looking for a new charity partner?
Corporate partnerships with St Peter's Hospice allow local businesses to empower their staff, and give back to a charity that profoundly impacts the local community.
Back to News