Spirits soar for balloon enthusiast Katie
07 Aug 2023
Patient Care Stories
Our patients and staff enjoyed an emotional lift when a hot air balloon came to the grounds of the Hospice in July.
Paul organised the balloon for his wife Katie who is staying at our Inpatient Unit while she receives help for pain management of her brain tumour.
Katie says: "I enjoy aviation, planes and science and I did my first balloon flight in Bristol in 2011. You join in as a team to pilot it and if I wasn't ill, I would have gone for my pilot licence. It's still fun and I love to see the balloons."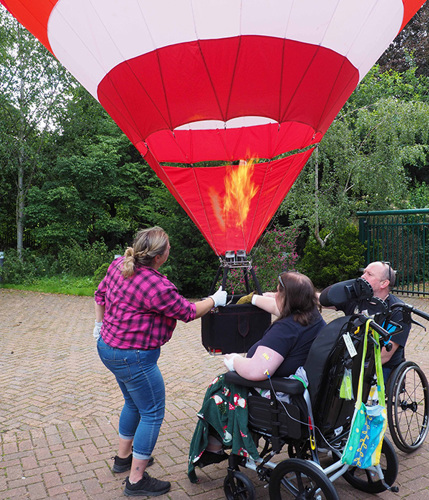 Bristol balloon pilots Mandy and Craig stepped up to help Paul out and set up their model balloon in the Hospice gardens with the aid of their young son Freddie. Clearly delighted, Katie was able to hold the balloon and help to pilot it.
Paul says: "Katie's been in the Inpatient Unit for nearly six weeks now and needs some excitement to keep her going. She was involved in balloons as a hobby and she used to fly this model hot air balloon. With the Bristol Balloon Fiesta coming up, I'm hoping that Katie's still able to get there this year."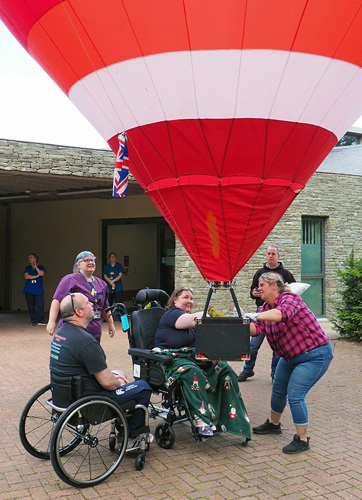 Katie was first diagnosed with a brain tumour in 2014. She has undergone a number of radiation and chemotherapy treatments but was told in December that she has months to live. Now that Katie's pain is under better control, the couple are working towards temporarily leaving the Inpatient Unit so that Katie can spend some time at home with their nine year old daughter, Chloe.
Katie says: "It's emotional and mentally challenging to try to cope with what you've got and being in a new place. The nurses help you to get through that muddy bit and we have lots of humour that goes on between us. I'm also getting fed very well here – the food is lovely. It's amazing, like staying at a luxury hotel."
Back to News