Complementary Therapy at the Hospice
10 Apr 2023
Patient Care Stories
We're proud of the holistic care we're able to offer our patients and families at the Hospice. An important part of this is the role our Complementary Therapists play in providing treatments on the Inpatient Unit.
Therapists Claire and Melanie tell us about what working at the Hospice means to them. They offer a range of treatments including massage, reflexology, reiki and aromatherapy.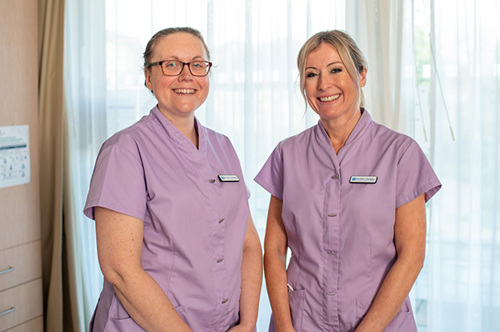 Claire and Melanie
Melanie is the Complementary Therapy Co-ordinator at the Hospice.
"I have always wanted to be in a job that involves bringing some kind of positivity to people's lives. I've been an employee here at the Hospice since 2019, and before that I volunteered as a Complementary Therapist for two years.
"I studied Clinical Aromatherapy at St Thomas' Hospital in London, which gave me the knowledge and insight into how natural therapies can benefit palliative care. This opened a new world to me and my passion was driven towards wanting to use my skills for those who need it the most.
"We liaise with staff in the Inpatient Unit to determine if patients are suitable for receiving complementary therapy. We initially offer patients a gentle hand massage, and then make an individual treatment plan tailored to their specific needs. Our aim is to meet patients' needs and requests and be available for them if they choose to incorporate complementary therapy into their care.
"We also work alongside occupational, physio and assistant therapists offering 'dual treatments', combining massage with guided relaxation. We also participate in the mindfulness groups which run on a weekly basis.
"We recruit and support a team of volunteers who provide some of the treatments. We ensure that they have the necessary qualifications and experience before they join the Hospice, as well as being suited to working within a palliative care setting.
"It's a pleasure to work in an environment where every member of staff has a caring and kind nature and all of whom go above and beyond for patients.
"I feel privileged to be able to offer treatments to patients and bring them comfort and at least some kind of enjoyment and relaxation even if for a brief time whilst they are receiving complementary therapy."
Complementary Therapy Assistant Claire has worked at the Hospice since October 2022.
"Since qualifying as a Massage Therapist back in 2007 I have always wanted to practice in a hospice setting. I am so completely grateful for this opportunity.
"It's very rewarding to receive the genuine gratitude from the patients I treat. I have met some wonderful people so far and I know I will continue to do so."
Back to News