Hospice at Home update
03 Oct 2022
Patient Care Stories
Our Hospice at Home service brings care directly to our patients' doors.
Hospice at Home is a community nursing service, made up of Senior Health Care Assistants and Registered Nurses, whose focus is on supporting people in the last four weeks of their life, and who wish to die at home. In April 2021 we combined our existing team with three other small community ones making one large team to support anyone over eighteen years old within Bristol, North Somerset and South Gloucestershire.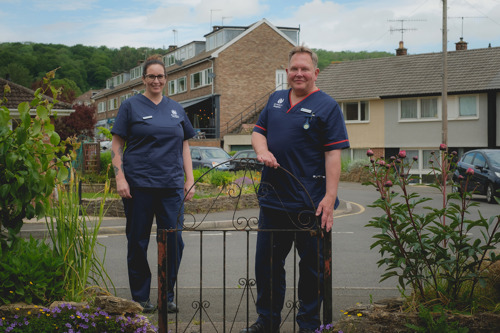 Bringing four small teams together, many with vacant posts, and during a pandemic was a challenge. But from day one, existing and new staff have been absolutely remarkable. Our staff are motivated by giving patients and their families the best care they can offer. They have achieved this, despite the many challenges of Covid, staff isolating, shift changes, working behind PPE and building new relationships with colleagues. We are immensely proud of what they have achieved.
From April 2021 to April 2022, Hospice at Home supported 592 patients to die in their own homes, delivering 7,365 visits. The new model focusses on delivering care once, twice or three times daily, depending on the patient's changing needs. Our next step, resource allowing, is to increase our team so we can offer more night support to our patients, as this is always very appreciated by the families we support.
"As a family we wanted to say how thankful we are for the help, care and expertise that you gave mum and us during the last few days of mum's life… We would like to say how thoughtful and respectful your team was… each showed such incredibly high levels of emotional intelligence; knowing when to be encouraging, when to offer a hug, or when just to be silent, what else can we say but thank you."
A recipient of Hospice at Home support
Back to News