The Rugby March will be returning for the Bristol Bears v Harlequins game on Sunday 12 March 2023.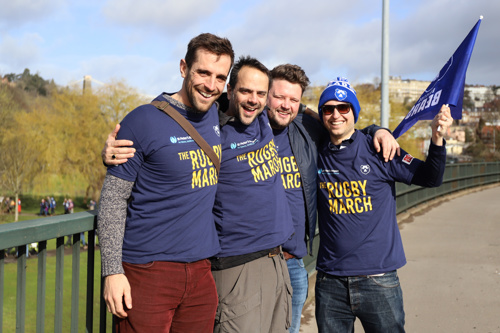 We've teamed up with none other than the Bristol Bears to bring you a rugby game that makes a difference for local patients and families. 
This March, come together for a six mile sponsored walk that takes in Bristol's most scenic spots and will get you pumped and ready for the game. At the finish line, enter Ashton Gate and fill the stands for the live Bristol Bears v Harlequins premiership rugby game and soak up the atmosphere with the rest of the fans.
The walk will head under the suspension bridge before climbing steeply up Nightingale Valley and into Leigh Woods. Circle Clifton and take in the view from the observatory before returning through Ashton Court. 
Entry is £30 and includes a t-shirt, your ticket to the game and a discount on food and drink within the concourse. You'll be able to choose your seat in our stand in the stadium in advance to make sure that you're sat with all of your team. Disabled seats are also available.
We were thrilled to raise over £40,000 at The Rugby March 2022, a total which will make such a difference for so many local patients and families. We hope you'll join us for 2023!
Location
Ashton Gate Stadium, Ashton Rd, Bristol, BS3 2EJ
Date
12 Mar 2023
Time
Walk start time: 11.30am 
Rubgy kick off: 3pm
Entry fee
Entry is £30 which includes your match ticket and covers the cost of running the event, so all the money you raise or donate will go toward making a difference for local families.
If you would like to take part in the sponsored walk but not receive a rugby ticket for the match, you can sign up for £20.
Please take a few moments to read our Terms and Conditions for taking part. Minimum age of 10 years old.
Contact: Hayley, events@stpetershospice.org 01275 391400