On 30 September 2022, a team of 16 fundraisers headed to the stunning Annapurna region of the Himalayas in Nepal, home to some of the highest mountains in the world, for an unforgettable challenge for St Peter's Hospice.
Together, they set out on a trek along the foothills of the Himalayas, through charming Nepalese villages experiencing the culture of the mountain people of Nepal, and climbing higher through rice paddies and rhododendron forests.
Two days into the trek, the heavens opened and a strong monsoon and local landslide stopped them from progressing. After spending an extra day stuck in a hut with no power, playing games, singing and eating by torchlight as the rain poured relentlessly outside, they completed a long, wet day of trekking back to lower ground. It might not have been the adventure they had set out on, but it was definitely a challenge to never forget.
The team took a moment to hang a prayer flag on a local bridge in memory of a loved one, before returning to Kathmandu to celebrate their achievements while the sun was back out.
Thank you to everyone who took part in this incredible challenge, together raising around £60,000 for St Peter's Hospice! This fundraising total could fund around 63 nights of care from the Hospice at Home team, providing support to family members and medical care for local patients when it's needed most.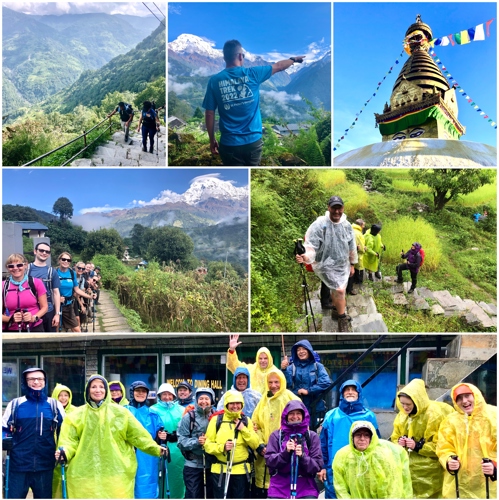 Keep an eye on our events calendar for the next opportunities to join an unforgettable challenge, or browse the options on the Global Adventure Challenges website to see where else you can trek for the Hospice.
Location
Annapurna Region, Nepal
Date
30 Sep 2022
Costs
£399 deposit to Global Adventure when signing up
£3,500 minimum fundraising target
Global Adventure Challenges
We are pleased to be partnering with Global Adventure Challenges to take on this challenge. To find out more about the trek, visit the Global Adventure Challenges website.