Sally's Experience as a Retail Volunteer
01 Jun 2023
Volunteer Stories
For Sally being a retail volunteer for St Peter's Hospice over the last five years has had a positive impact on her life.
Sally felt it was time to do something for herself after her children left for university and signed up to volunteer in our Downend shop, hoping to meet new people and gain confidence. Since then, Sally has volunteered across several of our shops and is now based at our new Whiteladies Road shop.
Sally says: "I'm a people person so I love chatting to customers and I've met people here who have gone on to become great friends. The role's flexible and it works around my life."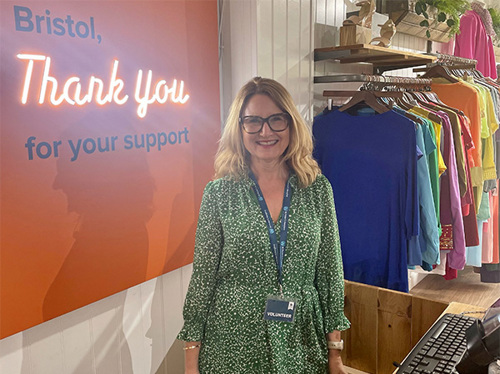 Alongside her role on the shop floor, Sally also volunteers with our New Goods team at our warehouse in Avonmouth helping with the picking, packing, and dispatching of our new goods which are sold across our shops and website. Sally says: "I have a lot of fun with the team and love how both roles are so different from each other."
Volunteering at the Hospice works both ways, as Sally explains: "Not only are you doing something for charity, but you get so much back in return."
Growing her confidence and feeling part of something again was a big motivation for Sally when choosing to volunteer and her time at the Hospice has given her a foundation to be able to go on and do other things. She has recently started gold lessons, something she wouldn't have felt able to do before volunteering.
For anyone thinking of volunteering for St Peter's Hospice, Sally would highly recommend it. "I personally get so much from it, it's definitely worth a try. There are so many different roles that there's something for everyone. The people are lovely and welcoming wherever you are in the organisation."
If you'd like to give volunteering in our retail team a go then either visit your nearest shop and chat to the manager or find out more information and register your interest by clicking on the link below.
Find out more about volunteering in our shops
Back to News