Sustainability on display for World Earth Day
25 Apr 2022
Shops Stories
St Peter's Hospice pre-loved shops highlighted World Earth Day on April 22 with window displays designed to sell a message.
The Hospice set the shops a challenge to create a shop window and store space to support environmental action and show how shopping and donating items to pre-loved stores can help everyone do their bit to live more sustainably.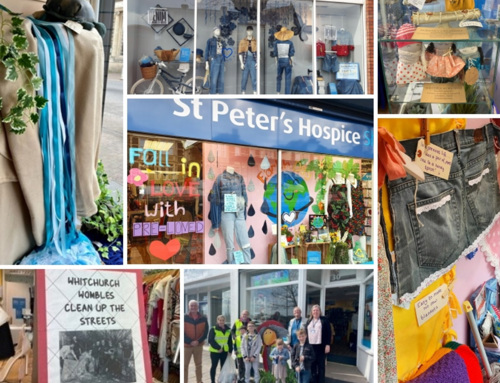 Retail Director John Broomhead said: "We wanted to highlight World Earth Day and the great work that the retail charity sector does to support a more sustainable way of life. With stores in 46 local Bristol communities having a 'Window competition' is a brilliant way to showcase how using recycled clothing donated by our fantastic supporters can support both Bristol's only adult hospice and the environment. I am delighted with how creative our teams have been with their displays and this shows what fantastic clothing can be found in our retail stores."
First place in the competition was awarded jointly to the Henleaze and Totterdown stores. Volunteer Jill was the mastermind behind the Totterdown shop windows, setting out the facts about how much water is used to produce denim, demonstrating how used rags can be turned into something new and advertising the store's plant sale. Store Manager, Sara said: "We want to make customers aware that by coming into the shop and buying pre-loved, they are doing good."
Sustainability is at the heart of the campaign, as Sophie, Assistant Manager at our Henleaze shop explains: "Our main theme is centred around denim and the amount of water that's used to produce it. One window is dedicated to this, and we've made a focus of recycling our rag denim into flowers, a butterfly and using it to wrap pictures frames for the visual aspect."
Henleaze Shop Manager, Sarah, created upcycled clothing where denim items have been re-imagined by combining old flannel shirts with denim jackets (inspired by Desigual and other brands). Also, items of worn denim with holes have been patched up creatively to make new. Recycled cloth bags were handed out at the till instead of the standard plastic carrier bag to encourage customers to bring them back filled with donations.
The store collaborated closely with East Street Emporium in Bedminster who have helped to create a window with products they've upcycled and items for display cabinets at the front of the store including upcycled clothing and bags.
Our Whitchurch store worked with local community group, The Whitchurch Wombles, who keep Whitchurch litter-free. The shop's centrepiece Womble window (which features five feet tall Womble, Orinoco) will be donated to the Whitchurch Wombles litter picking group to help them recruit more members, once this valued member of the team has finished his stay with the store.
Visually, both the Bedminster and Portishead store displays stood out. A huge wooden earth was attached to clothing in the Bedminster shop and handmade animals constructed from recycled rag put on display. The Portishead shop highlighted that it has been recycling since it opened 30 years ago.
The Hospice receives around 10,000 bags of donated goods every week, saving tonnes of textiles from ending up in landfill. As well as offering shoppers a way to buy sustainably, we are continuously working to improve our in-house processes such as using recycled bubble wrap, biodegradable packing peanuts and donated or reused packaging for posting purchases from our eBay shop.
Back to News