Stunning shop window displays for Bristol Pride
18 Jul 2022
Shops Stories
By now, everyone in Bristol is aware of how seriously our shops take dressing their windows, and in June, when they were set the challenge of creating eye catching designs for Bristol Pride, our retail teams went all out to bring a riot of colour to the high street.
As an added incentive, photographs of their creations were entered into the Charity Retail Consultancy's 'Pride Windows Competition' a UK-wide competition, where prizes such as a visual merchandising course could be won. And win we did, with Stoke Lane taking third prize and Keynsham being awarded a special mention!
Thom Madine, manager of Stoke Lane, said: "We wanted to create something clean and impactful. The idea of the drapes was to make the windows look completely different, hanging them floor to ceiling and wall to wall. The fabric was sequined, so from the road it really sparkled and gave a celebratory feel for Pride. We were very surprised to have come third in the whole competition and were very pleased to spread the St Peter's Hospice message of inclusivity and make the public smile."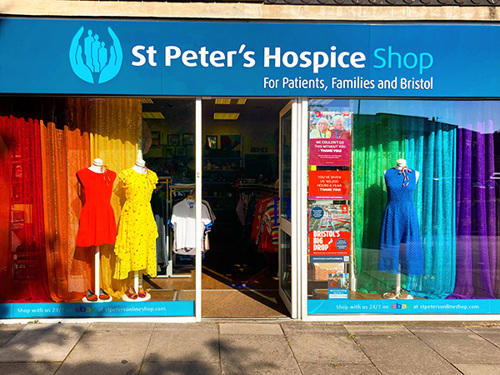 Stoke Lane window display
Pride has an important place in the hearts and lives of many of our staff and volunteers, as Helz Harmer-Taylor, Portishead manager explained: "Pride is, quite rightly, a celebration of love and acceptance, but this year I wanted to highlight that there are still many struggles faced by the LGBTQ+ community, so I chose to educate about two of the Pride flags that are personal to me."
Helz chose to dress their main window in the colours of the trans flag - a dedication to their transgender son - and the nonbinary flag - representing their feelings of gender non conformity. Their side window was dedicated to letting children know it's ok to be who they are. The final window was used to make a simple statement of support, with hand dyed t-shirts literally 'Dripping With Pride'.
"Working in a shop with three large windows gave me the opportunity to showcase what Pride means to me and to let the community know that St Peter's Hospice will always be there for everybody."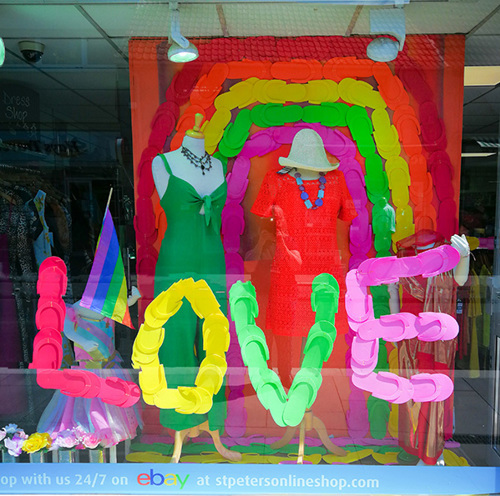 Keynsham window display
Hear from Retail Area Manager, Sarah all about our participation in the competition...
More about equality, diversity and inclusion
Back to News