Melanie's story
06 Oct 2021
Patient & Carer Stories
Melanie's mum Joyce was cared for by our Hospice at Home team in the final week of her illness. Here, Melanie tells us more about that time.
"From the first minute the Hospice at Home nurse came to visit me at home, I felt at ease and I knew she understood the care my Mother needed in her final days. I had no idea that the Hospice at Home services existed. The GP told us and referred us, and then someone from the Hospice came and explained everything. It was ideal, exactly what we wanted, which was for Mum to be at home.
"I had never seen anyone die let alone someone as close to me as my mother, and having lived together for over six years we had become so very close. I was determined to respect her wish to die at home but really had no idea what that would entail. I was so fortunate to have had the support of the Hospice at Home team. Every nurse and carer looked after both Mum and me, and I can't thank them enough for being there when I needed them the most.
"I never felt undermined or unincluded with the treatment Mum needed and I was able to keep Mum in the hub of our home 24/7. She told the nurses much more about how she was feeling, as she viewed them as professionals.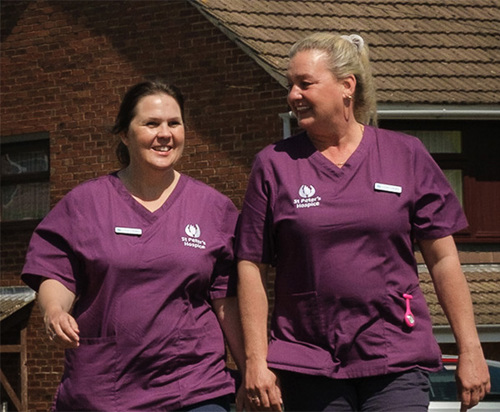 "The nurses just slotted in. They were like old friends."
Melanie
"Six out of seven of the nights Mum was bed bound, I was also able to sleep as well as possible as I knew Mum was accompanied the whole night. It was so lovely to have kind, compassionate, caring ladies surrounding Mum, making sure she had a peaceful, pain-free passing.
"It was a beautiful set up at home. The nurses just slotted in. They were like old friends, even the ones who only visited a couple of times. They were completely professional but so natural. It never felt like an intrusion having them there. They not only supported Mum but me as well.
"I had no idea what was going to happen; it was scary but there was always someone there to tell me what to expect, and that what's happening is normal.
"I will be forever grateful for the help and kindness shown to me and my family by the Hospice at Home team."
Image credit: ©Vanessa Simpson Photography
Back to News