Angela's story
22 Mar 2021
Patient & Carer Stories
Angela, Hollie's mum, was sadly diagnosed with cancer in February 2020. Here, Hollie writes about her mum's journey with the Hospice.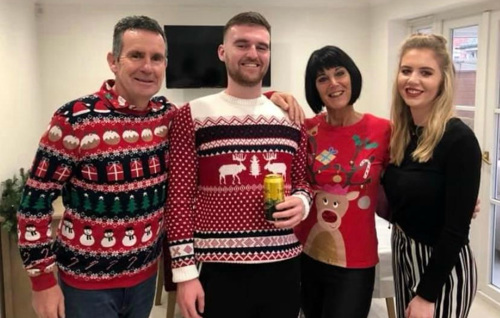 Angela pictured second from right with her husband Russell, son Josh and daughter Hollie
"Mum underwent a course of chemotherapy, but later scans showed that the treatment had not worked. She was offered a different type of chemotherapy which we declined because it would have been very invasive. She was then referred to the Hospice in September.
I remember the first time the Hospice called. We'd gone out for a walk and we'd stopped to sit down on a bench. Mum was so nervous before she spoke to them, but once the conversation started I could see she was physically relieved. The Hospice answered all of her questions which really put her at ease.
She was first offered phone support by the Community Nurse Specialists who also visited a couple of times. The nurses were friendly, there was no waiting, and it was really personal and tailored to her needs. They understood, so it was really reassuring to have their support. Mum's condition continued to worsen when she was admitted to Southmead Hospital. After two weeks it was decided she would be admitted to the Hospice. My brother Josh and I were terrified. The vision we had in our heads of end of life care, was very different to the care Mum received at the Hospice which was a huge relief.
It was so hard being there at first as we were expecting it to be a depressing place, but it wasn't. The nurses and doctors were so down to earth and honest with us about Mum's prognosis, and they told us what to look out for during her final days.
Mum was a massive fan of Christmas so the Hospice organised to bring Christmas Day forward so we could celebrate together. The staff made such an effort to find out about Mum and the sort of person she was. To be able to bring Christmas forward so Mum could be with us was amazing. They put up decorations, we had festive food and played Christmas music. It was so special. We wanted to make things as normal as possible for Mum, despite the circumstances.
I was there when Mum passed away at the Hospice in November. It was heartbreaking, I don't know how we would have coped without the support of everyone there. It was 100 per cent the right place for Mum to be. We're eternally grateful for everything the Hospice has done for our family."
Back to News