What makes Hospice care different?
05 Oct 2020
Patient Care Stories
I'm Anjali, the Medical Director at St Peter's Hospice and a Consultant in Palliative Medicine. During my career, I've had the privilege to provide palliative care to patients in both NHS hospital settings and also a number of hospices. I've been working at St Peter's Hospice since 2015.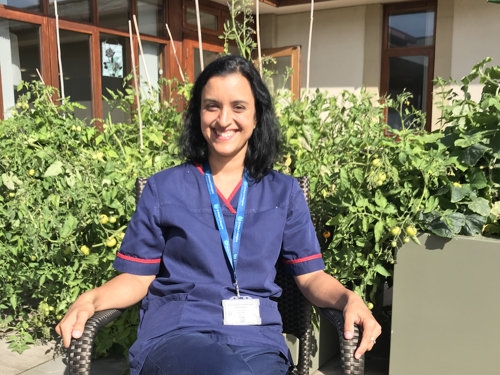 I love working here and love being part of the holistic care that we're able to offer to our patients, whether at home or in our Inpatient Unit. What makes hospices different to anywhere else is the space and time we can give to understanding each patient's individual needs when it comes to living with advanced illness. We have a purposeful focus on a person as a whole, this means supporting them physically, psychologically, socially and spiritually. Our staff have a high level of expertise and aim to hold and support people through the times when they need it most. 
In my experience, working in hospitals to provide palliative care to patients was really rewarding but it came with its challenges. Hospitals do a great job of fixing people, so sometimes it can be difficult to accept and manage a problem or diagnosis that can't be fixed, such as progressive advanced illness. 
Here at the Hospice we try to look beyond the physical impact of illness, to understand how every facet of a person's life is affected. The wider impact can be significant. An example of this is how we approach pain management. In a busy GP surgery or hospital ward, there may be less time to explore why someone is in pain, at the Hospice we can do that. Pain can be triggered and intensified by a range of factors like anxiety and fear and it's important that we've got to the root of this before we decide on the appropriate management plan. If we don't address these things, we're unlikely to achieve the best pain control. Recently, a person admitted to our Inpatient Unit from hospital came over in significant pain. 10 days later, they left the unit to go home, transformed. They were much more comfortable through a combination of careful management of painkillers, some complimentary therapy, time in the garden and a chance for them and their family to chat through their hopes and fears with the ward staff. That was wonderful to see. 
As you may already know, the majority of the care we provide is in people's homes through our community teams, who offer a range of services from advice and support to practical hands on nursing care. These teams work hard to help our patients focus on living and making the most of the time they have left. Our patients also have access to our 24 hour Clinical Advice Line, meaning they can ask for help at any time. Prompt advice can be helpful in avoiding unnecessary GP or hospital visits. Towards the end of life, many patients express the wish to die at home, surrounded by the people they love. Our care and support can help achieve this.
If we lived in a world where we weren't here to provide this care, some patients might struggle with their symptoms and problems, and may not feel supported to die at home.
I strongly believe that holistic care is the key to help people achieve positive outcomes, where they can feel more comfortable and cared for. To all of you who support the Hospice, I would like to say a big thank you for making this possible for our patients. 
Back to News