Meet Louisa, Retail Area Manager
20 Dec 2022
Employee Stories
Hi, I'm Louisa, I'm a Retail Area Manager covering all shops in the south of Bristol and surrounding area.
I've been working at the Hospice since 2014. I was working in mainstream retail which I loved but wanted to move to the charity sector to get more fulfilment and do what I love, while supporting an incredible cause.
I didn't want to work for a 'fat-cat' and just be a number anymore, I wanted to work somewhere smaller where your contribution isn't only recognised, you really understand how you make a difference to the patients and families we care for.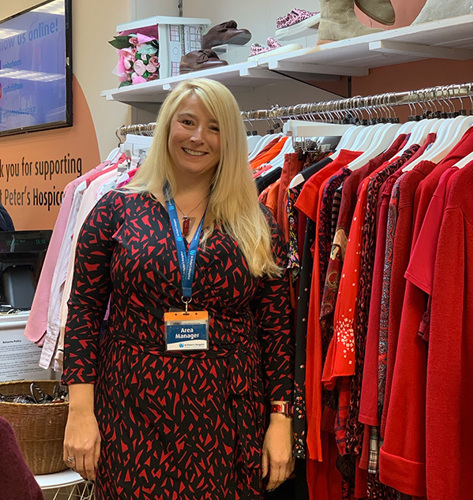 I have so much variety in my job, no two days are the same which is one of my favourite things about the role. I am responsible for 15 shops across the south Bristol area ranging from Clevedon and Portishead, across to Broadmead and Redfield.
My days are split between visiting and supporting shops for different reasons which could be recruitment, commercial floor changes, HR issues, planning events, supporting with stock queries, recognising jobs well done and training and development.
The rest of my time is spent with the wider retail team in meetings where we plan and work towards strategy goals, and support other areas with retail projects. I am also on a couple of working groups, looking at issues such as our employee experience and the technical implementation of new systems to stores.
I also try and spend some time when I can at the Hospice itself to catch up with our colleagues there, so I never lose sight of why we do what we do and why everyone works so hard to keep our amazing Hospice running. It is such a motivator and wonderful thing to be a part of.
I am lucky enough to have such a great team underneath me but also around me. We really are a family and it is such an incredible thing to be a part of. It is a privilege to do what I do.
I don't work directly on the clinical side but I am always so humbled when we hear stories about how our clinical staff care for people in need and not just everyday care but the above and beyond stories that not everyone gets to hear. The arranging of a balloon flight at short notice, because it was on someone's bucket list before they passed, the building of an outdoor bar so that a young person could enjoy a final pint with his friends as he was too ill to leave the hospice, arranging for a celebrity visitor to come and make someone's day who is in our care. These are just some of the things that we do to give that incredible care to people in need.
If you're interested in retail opportunities at St Peter's Hospice, we'd love to hear from you.
Back to News