The Difference Volunteering Can Make
06 Jun 2019
Volunteer Stories
Bev wasn't going to attend Day Services, and always referred to the hospice as St Pete's and would never use the word 'hospice'.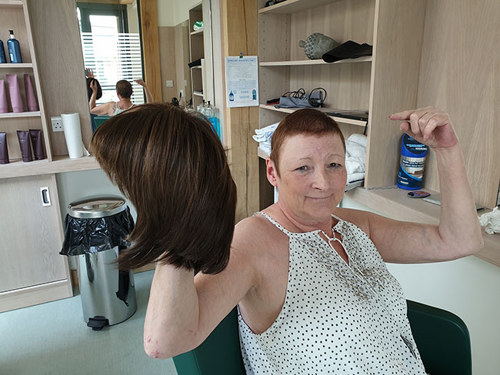 She was persuaded to give it a go, and Bev was picked up on her first day by a volunteer driver. Upon arriving and pulling up outside she couldn't believe this was the hospice, and was in shock about how bright and happy everyone was. Bev has continued coming to the hospice, and has had several volunteer drivers over the weeks, all of whom give up their valuable time for free. Bev and her current driver Liz chat about anything and everything and have many laughs on both journeys.
Since losing her hair, Bev has always worn a wig and wouldn't let anybody see her without it, that was until Lisa our volunteer hairdresser was in one Thursday. Bev decided to have her hair washed and mentioned to Lisa that she needed it coloured so Lisa popped home to collect a colour and came back to wash, colour and cut Bev's hair. Bev left Day Services that day modelling her new hair style with her wig in her handbag - something she never thought she would do.
Bev appreciates all the support she gets at the hospice and speaks very highly of all our volunteers who have made such a difference to her. From being driven to and from the hospice, to general day services and arts & crafts volunteers, from complementary therapists to hairdressers, all give up their time for our patients. If you'd like to make a difference, please our visit our volunteer pages to find out more.
Find out more about Volunteering Opportunities
Back to News