Could you help people grieve for the death of a loved one?
21 Oct 2019
Volunteer Stories
Julie contacted the Hospice after the death of her father. Having initially not been sure as to how they could help her she was offered ten sessions to talk to an Emotional and Psychological Support Volunteer.
Speaking about her experience she said, "I'm someone who's had a very blessed life, my mum and dad live just down the road from us, a lovely husband and two beautiful girls, a brother and his family, a really close network of support from my friends and a job that I absolutely love and so when I lost dad, as with anyone you lose, it really knocked me."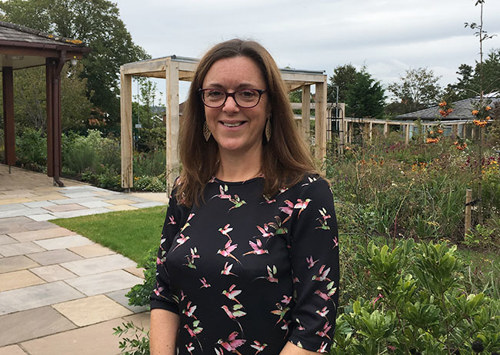 "Initially I came in and met with a coordinator who went through lots of questions with me to try and gauge where I was in my stage of grief and to work out how best to go forward. I then came and met Jo for the first time, I remember sitting in the room, looking at her and saying I don't know what I'm going to talk about, an hour later I came up for breath and finished talking. Jo listened and gave me space to explore and talk about the overwhelming grief that I was feeling and she normalised that for me. It validated a lot of what I was thinking and feeling."
"She became like a friend to me because just as two human beings she attuned with me and she made me feel safe and made it safe to talk about some really traumatic feelings of losing someone that I loved so deeply and so that relationship evolved over time. Jo gave me wings to navigate through the grief process in a really supportive way. She showed me that the more deeply you love someone the more deeply you grieve but in time that's something that you'll get strength from."

"It was so important to have been able to vocalise the feelings and memories that I needed to access. I draw a lot on things that Jo said to me and things that I said in those sessions that are really important."
Could you help people like Julie grieve? We're looking for Emotional and Psychological Support Volunteers to support our families at the Hospice. You'll need to be a good listener with an understanding of grief and death and be able to offer an hour on a weekly or fortnightly basis. You'll also receive regular training and ongoing support from the Hospice. If you think this could be for you, please contact Garry Reeves, Bereavement Coordinator on garry.reeves@stpetershospice.org or 0117 9159510 before 31st October.
Find out more about becoming an Emotional and Psychological Support Volunteer
Back to News