Become a Neighbours Network 'Angel'
27 Mar 2019
Volunteer Stories
Every Wednesday, an angel comes through the front door of James Boston's home - her name is Debbie Weston, a volunteer for our Hospice Neighbours Network.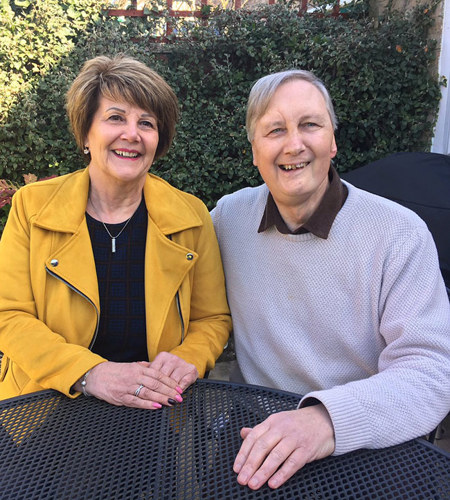 Our Neighbours Network are volunteers who carry tasks for our patients at home from helping with cooking, cleaning or even just spending time having a chat. Debbie has been visiting James in Stockwood for the last three years. He describes her as 'his angel'.
"There are some things I just can't do as a result of my illness," said James. "Debbie comes every Wednesday evening to help out at home. This can be from hoovering to cooking and changing the bed. Her visit makes such a difference to me and helps me manage in my own home. She is nothing short of an angel."
Debbie first started volunteering at the hospice three years ago one Sunday a month serving meals and drinks to patients. She then become part of the Neighbours Network, and is also now part of the hospice's bereavement support team.
"James was the first person I visited and I he's been part of my life for the last three years," she said. "I really enjoy volunteering and it's completely different from my day job. I get far more out of it than I put in and it's very rewarding. I lost both my parents to cancer and this is my way of giving something back and James has become a great friend. As well as helping out with everyday tasks, often we will just sit and have a good chat. I'd recommend being part of the Neighbours Network to anyone as it brings something extra to my life."
We're currently recruiting for more volunteers to join our Neighbours Network. As part of Open Up Hospice Care week, we're appealing to anyone inerested in finding out more to contact our hospice volunteer co-ordinator Russell Cowan on 0117 9159448 or russell.cowan@stpetershospice.org
Find out more about our Neighbours Network
Back to News