The Team Behind the Telephone
20 Aug 2020
Patient Care Stories
The Hospice Advice Line is a 24 hours phone line manned by a very experienced team of specialist nurses.
They speak round the clock to patients and carers, and give expert palliative care advice to other professionals like paramedics, district nurses, GPs, care homes and prisons. Since the outbreak of COVID-19 they've seen an incredible 100.3% increase in calls. It's meant some quick thinking on how to change the way they work so that they can run the line as usual. Team Leader Jayne tells us more.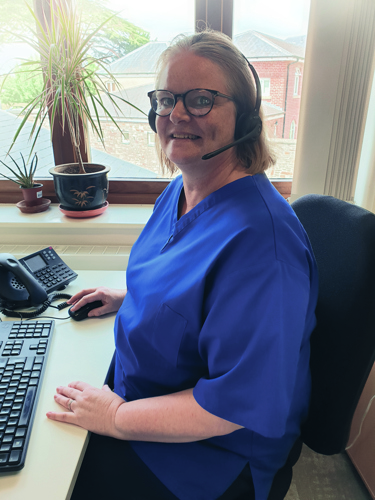 "Generally, patients call us when something changes that they don't understand, like for example, the symptoms they're experiencing. Dealing with a terminal illness is terribly isolating, and that feeling has heightened even more recently. Normal family or support networks aren't the same, more people are dealing with their illness on their own for periods of time which is incredibly hard and scary.
"It's hard for carers too. We've been getting a lot of calls from people who are caring for loved ones in hospital or a care home, struggling with the lack of visiting time. When you know you have precious little time left with someone, having that taken away is devastating. Although we can't change this, we can empathise. Often people say that it helps, just to talk to someone and get it out of their system.
"In the context of COVID-19 calls are so important, and we're taking more of them than ever. To make sure that no call goes unanswered we have had to face up to the challenges fast, and create a system that works. We've modified and improved our phone system and had support from other clinical teams in the organisation.
"One of the things we've focussed on since the outbreak is how to relieve pressure from other healthcare professionals as they also work to cope with the effects of COVID-19. So we've simplified our referral process making it much quicker and easier.
"It's been amazing to watch the team spring into action and witness how adaptable they are. The closeness and physical interactions may have stopped, but emotionally we're still here for each other every day."
Back to News