Help us be there for one extra day this year
26 Feb 2020
Patient Care Stories
A message from Chris Benson, our Director of Patient Care...
Here at St Peter's Hospice, we support people every day of the year. This leap year that means we're here for 366 days, supporting patients to live their lives to the fullest.
Everything we do aims to improve the quality of the living and dying of our patients, while extending care and support to their families and loved ones. It is an absolute privilege to be part of people's lives in this way, ensuring we support people in a way that is right for them. Hospice care is not about counting the moments we have, but about making them count, and that's such a personal thing for each and every person I meet.
Please consider making a donation today to ensure every patient has access to end of life care that is tailored to them, ensuring they can make every last moment count.
Thanks to supporters like you, our services are designed to meet the needs of each individual patient. Many people choose to be supported to stay in their own homes by our community nurse specialists or Hospice at Home nurses. Other people need to be admitted to our Inpatient Unit at Brentry where we can provide 24 hour care in a calm and relaxing environment. With support from Hospice staff, families can focus on being together, and making memories that will last for the rest of their lives.
This level of care is expensive. It costs £22,000 every day to provide all of the services we offer to our patients. But we believe that our patients deserve the very best care available.
My appeal to you today is to make a donation to help us pay for the extra day of extraordinary care that we need to fund this year. Take a look and see what goes into a day in the life of St Peter's Hospice, and the impact this has every day on patients and families.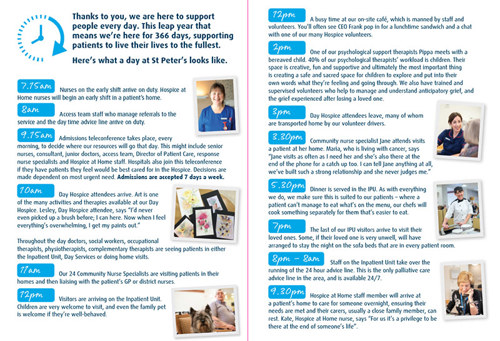 Could you please make a donation today and help to ensure our urgently needed care is available for an extra day this year? To make a donation, simply donate on our website or call our fundraising team on 01275 391 400.
How your donation could help:
£27.50 gives a patient an hour of a nurse's care in their own home
£50 means a family member can attend a therapy session, giving them a safe space to talk through their feelings
£67 is enough to pay for an hour of our day service, giving patients a chance to spend time surrounded by people who understand
Help us be there for one extra day this year.
Back to News