Michelle takes part in our Midnight Walk
11 Jul 2019
Fundraising Stories
Michelle, from Clevedon, has been diagnosed with stage four breast cancer but is determined to take part in our Midnight Walk this weekend.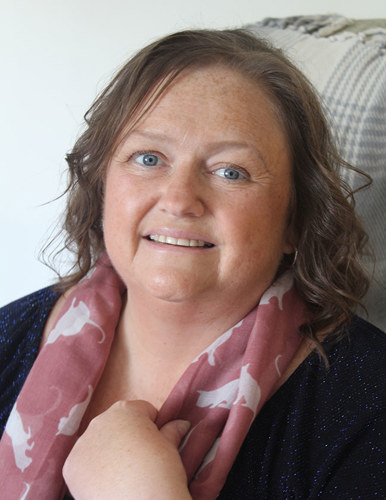 Michelle L'Oste-Brown was diagnosed with the illness in February and is benefiting from the Hospice's wealth of expertise. She has received psychological, nursing and medical expertise since her GP referred her to us.
She said: "People tend to think hospices are all about the end of your life but there's so much more to it than that."
The Hospice offers home care for referred patients and Michelle will benefit from our day hospice – including classes and meeting families in a similar situation – later in July.
The support Michelle has received so far has exceeded her expectations.
The 48-year-old underwent a double mastectomy four years ago, but she says the cancer remained 'lurking in her bones'.
Michelle found herself in agony in the autumn and tests showed her ribs were fractured. The cancer had weakened her bones so much it was as if she had suffered a trauma.
Medics ran lots of tests to discover what the problem was – to the extent she felt 'relieved' when a diagnosis was made.
But for Michelle, the Hospice is able to devote more time to her, providing the best medication and also preparing her home for her needs.
But her friends went one step further. In April, when Michelle, her partner Mark Smithers and their 13-year-old son Jack went away for the weekend, dozens of friends transformed their home. New furniture was bought, the walls repainted and the garden spruced, after they raised £4,000.
Michelle said: "It was like I walked into a holiday home. I was overwhelmed that so many people had helped."
She is looking forward to taking part in the Midnight Walk for the Hospice on Saturday.
Walks of five or 10 miles will start from Ashton Gate stadium. People can sign up on the night before 10pm.
Michelle, in a electric wheelchair, will be pushed most of the way by five superhero-dressed friends – Kate Britton, Erica Taylor, Judith Saunderson (her sister), Susie Reeves and Charmaine Cook – as part of Mish's Marvellous Mates.
More than £2,000 has been raised. To donate visit www.justgiving.com or find out more about the Midnight Walk at bristolmidnightwalk.com
Back to News