Let's Get Running: Hospice supporter Andy gears up for first marathon – age 50!
18 Jan 2019
Fundraising Stories
At 50, hospice supporter Andy Weaver, from Brislington, is proving age is just a number as he takes on his first marathon to help raise vital funds for St Peter's Hospice in memory of his brother.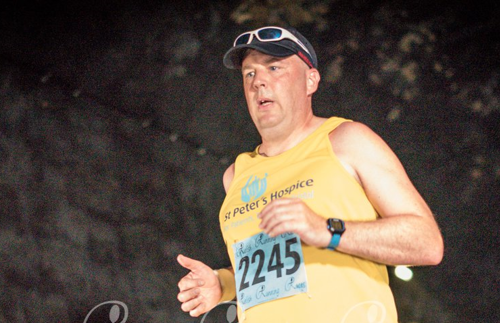 Andy's brother Steven died a week before Christmas in 2012, aged 46. After a short battle with cancer, Steven passed away in hospital – but Andy wants to raise money for St Peter's Hospice, after a day of hope the Hospice gave his family.
Andy said: "Somebody from St Peter's Hospice visited my parents in hospital and although in the end my brother was too ill to be moved and the opportunity never arrived for him to go to the Hospice, for just a moment my parents were given hope. In my view hope is priceless.
"Their suffering was put on hold and gave us something positive in a really difficult time."
Six years on and after 'a moment of madness', Andy, who describes himself as a 'Bristol lad through and through', decided to sign up to run the Great Welsh Marathon this year.
He said: "I wanted to pick a marathon that was a smaller one and the Great Welsh Marathon is a scenic run and so I thought why not! I knew I needed to do something and so decided to start running. My mum then suggested raising money whilst I run.
"I've run three half marathons before but age is a challenge and injury – and being a first marathon at 50 makes it no easy feat! I also work full-time and have a family so I will have a lot to juggle with training.
"The buzz and pleasure from helping the Hospice will help motivate me though. It brings it home. I chose the Hospice because it's local and helps local people. The hospice helps at a time that isn't a nice time for anyone and the more dignified the Hospice can help make that hard time for people, the better."
Andy is hoping to raise £250 with the marathon challenge through support of his family and friends.
He said: "If I'm going to run 26 miles I'll definitely get my friends to put their hands in their pockets for it – they've got the easy part!"
He added: "I'm only an average bloke and a 50-year-old fellow with a family and it'll be a dream to finish the marathon."
We want to wish Andy the best of luck with his training and say a huge thank you for his support and fundraising efforts! If you would like to take on your own running challenge, find out more about upcoming races and how you can be a Hospice Hero just like Andy.
Back to News