Get Ready for the Portishead Soap Box Race this Summer
30 Jan 2019
Fundraising Stories
Since the Portisthead SoapBox Race first took to the streets in the summer of 2017, the family-friendly community event has raised more than £16,000 for the Hospice. This summer, the wacky race is returning to raise even more vital funds for patient care – read on to find out how you can get involved!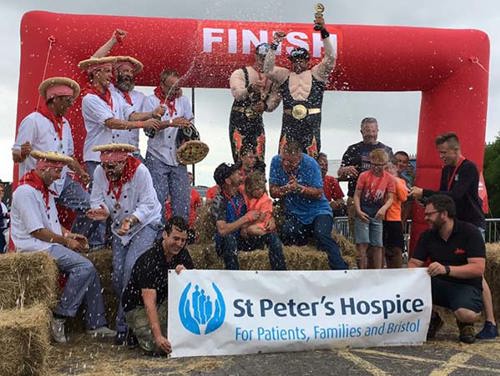 Portishead SoapBox Race 2019 will take place at Esplanade Road in Portishead on Sunday 14 July 2019. For spectators, the event is free and you don't need tickets. Just turn up, watch, and soak up the fantastic community atmosphere! We will be collecting for St Peter's Hospice on the day, so if you enjoy the race, dig deep and donate!
The main attraction is to watch teams hurtle down the racecourse in handmade soapboxes. The event has seen it all – from Scooby Doo vans to Mario carts!
Team tickets to enter the race will be released on Saturday 2 February 2019 at 1pm and will be available from portisheadsoapbox.co.uk. All tickets will be released on a first come, first served basis… so don't miss out!
Teams that took part in 2018 will be able to buy tickets one hour in advance from midday. Details will be emailed to you in advance. New participants will be able to buy tickets from 1pm. Spaces are limited and are likely to sell out very fast. As soon as spaces are sold, a waiting list will be created for any cancelled places becoming available.
Standard Team Tickets are £150 per team, with all teams required to raise a minimum of £200 sponsorship in aid of the Hospice through an event JustGiving page. Details of this will be shared after registration.
The event, organised by locals Sam Garland and Ben Knowles, who together run RedLeaf Events, has been a roaring success in the South West. In its first year in 2017 it raised £4,000 for the Hospice and saw more than 7,000 spectators on the day. In its second year, it raised over £12,000 for the Hospice!

Here's how it all began…

In January 2017, a member of a local Portishead Facebook group asked whether it was feasible to put on a new event in the town. The post was an immediate hit with local residents with many suggestions of what could be put on locally.
Ben Knowles, owner of RedLeaf Event Management, who has lived in Portishead his whole life, kept a close eye on the post, immediately wanting to be able to help in whatever way he could.
One comment that received a lot of interest was about putting on a SoapBox Race in the town. Ben quickly spoke with his business partner, Sam Garland about putting the event on.
Ben said: "We have a wealth of experience in putting on events across the UK and Europe. To be able to put on an event on our doorstep was an exciting opportunity and something we were looking forward to getting our teeth in to."
Ben and Sam were keen to make the event a local community event, benefiting as much of Portishead and further afield in to North Somerset as they could. The decision was made to make the event in aid of a local charity.
St Peter's Hospice became the charity of choice for the team after a sad turn in Sam's life saw his mum, Helen, suffer with cancer. Helen was admitted to the Hospice in March 2017 after a long battle with cancer since 2014. Helen passed away in the care of the team at the Hospice in April 2017.
Ben said: "Being able to donate the profits of the event to a charity that is so close to us was amazing. Not only this, but we were able to offer the event to spectators for free, thanks to our amazing sponsors."
Support Portishead SoapBox Race this year! Sign up online to be part of the race or simply come along on the day to watch. Whatever way you take part, your support will help raise vital funds for the Hospice.
Find out more at portisheadsoapbox.co.uk
Back to News