Charity cycle raises over £1,500 for the Hospice
20 Aug 2019
Fundraising Stories
Four friends from Bristol have cycled 28 miles from Whitchurch to Bath and raised over £1,500 for the Hospice.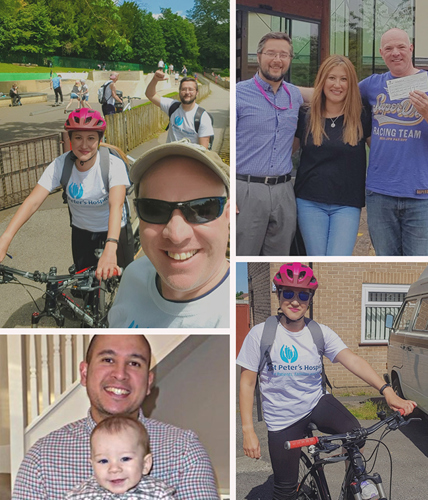 Matthew George was just 38 years old when he passed away from cancer at the Inpatient Unit in 2018. His sister Marie tells us "During his illness both Matt and his young family were supported so amazingly by St Peter's. The care he received would not have been possible without the charitable donations this vital service receives". For that reason, Marie and her close friends Jamie Shute, Carla Mandis and her husband Giancarlo Giambarresi decided to take on a challenge and raise funds to allow other people to receive the same level of care.
With most of the group being cycling novices, taking on a bike ride was a big decision – some hadn't been on bikes for over 10 years! They undertook lots of training rides to prepare for the main event and shared photos of their preparations on the group's Just Giving page.
The day itself was hot and sunny making it even more difficult, but the team spurred each other on and together completed the challenge. The team's very generous friends and family collectively donated £1,090, and an extra £500 was very kindly given by Jamie's place of work, Zurich, bringing the overall total to a fantastic £1,590. This tremendous sum of money will support the vital work of the Hospice, helping more patients and families across the greater Bristol area.
If you would like to donate to this challenge please visit justgiving.com/fundraising/matt-peter-charles-george
Back to News