Meet Ella, a Psychological and Emotional Support Therapist at the Hospice
21 Dec 2022
Employee Stories
Hello, I am Ella. I am a Psychological and Emotional Support Therapist at St Peter's Hospice.
I am a qualified Art Psychotherapist and I've been employed here at the Hospice since 2022, so I'm still relatively new to the team.
My experience includes working with children and adolescents in educational establishments, with women in a psychiatric unit for Avon and Wiltshire Mental Health Partnership NHS Trust and running art therapy groups for displaced young people who are seeking asylum.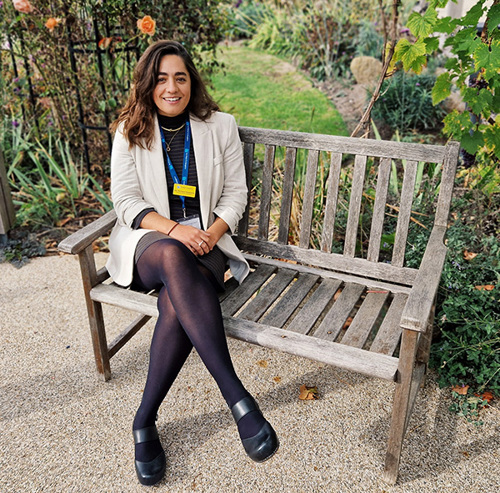 My passion is to work therapeutically and creatively with individuals, groups, and families and help them process their experiences around loss and bereavement. I have a holistic approach, and have a particular interest in a loss of identity in grief.
As a mixed-race practitioner, I understand my clients' cultural needs and diverse backgrounds and encourage dialogues around race and culture.
I love how varied my role and therefore my working day at St Peter's can be. When I arrive at work, I spend some time checking over my emails before seeing a client or a patient for a therapy session. I usually see up to four people a day and this can take place virtually or in person in one of our therapy rooms or on our Inpatient Unit.
My sessions can be with carers, the bereaved or someone who has a life-limiting illness. In between sessions I write up notes and attend multi-disciplinary and core team meetings.
I have a wonderful team and we take the time to reflect and think together about the people that we are working with so that we can offer an excellent standard of care and best practice approach whilst meeting current demands. There is real value in gaining a range of perspectives, which can foster transformative thinking.
It is incredibly rewarding to see how the people that we work with benefit from the psychological and emotional service that our team offers. This includes honest and respectful conversations as well as a creative approach to therapeutic interventions.
My practice draws on imagination, metaphor and play. I believe that being creative can take on many different forms and it is not necessarily something that is just visual… it's about ideas and how we communicate them. 
If you'd like to find out more about working for St Peter's Hospice, visit our current vacancies page.
Back to News