Explore Bristol and our charity shops this August by taking part in this fun, interactive treasure trail for all of the family to enjoy!
You'll be able to register to take part from 26th July, with the St Peter's Hospice Treasure Trail going live on 1st August. Once registered, you'll be emailed a link to download your Treasure Trail Activity Pack which will give you everything you need to complete our Treasure Trail as well as fun activities to enjoy at home!
There are 4 trails to choose from, each taking in different areas of Bristol, and of course, our shops! At each stop you will need to find and scan the QR codes hidden in the shop windows with your smart phone to reveal 'treasure' such as pirate-themed selfie experiences, jokes, stories, discounts and interesting facts about Bristol's Hospice.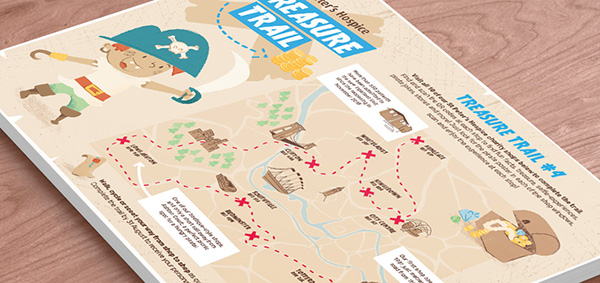 Simply use your phone's camera to scan the QR codes, or download and use any QR scanner app on your phone. Only one person from your family/group needs to collect these "collectables" along the way to complete the trail. 
Collect all the treasure on the route and you'll have the opportunity to provide the names of each child participating to be sent a personalised certificate and pirate stickers sheet!
When you register to take part you'll be sent a link to download your pack which contains route maps, printable pirate hat, colouring-in sheet and word search to enjoy at home.
You can also pick up a map at the following shops if you're unable to print them at home:
City Centre (9 St James Barton, Bristol BS1 3LT)
Whitchurch (30 Gilda Parade, Whitchuch, Bristol, BS14 9HY)
Henbury (169 Crow Lane Henbury, Bristol BS10 7DR)
Winterbourne (19 Flaxpits Lane, Winterbourne, BS36 1JY)
Backwell (40 Rodney Road, Backwell BS48 3HW)
Portishead (76 High Street, Portishead BS20 6EH)
Southmead (7 Arnside Road, Southmead, Bristol BS10 6AT)
Redfield (221 Church Road, Bristol BS5 9HL)
Every registration, which provides access to our Treasure Trail Activity Pack for only £10, will include an automatic entry into our Treasure Chest Prize Draw. The winner will be announced 1st September and will receive vouchers for fun family experiences. 
Please note, the link to download your Treasure Trail Pack will be emailed to you on the email address you provide when you register, so please make sure it's correct.
Registrations will open on Monday 26th July. 
Location
Bristol and surrounding areas
Date
01 August 2021
until 31 August 2021
£10 per family