Thank you to every wonderful walker who joined us for the Midnight Walk Your Way challenge between 3rd and 10th October to raise vital funds.
This year was a special edition of the Midnight Walk. Although things might have been a bit different this year, it's been wonderful to see everyone still come together as a community, in our brightest outfits, to walk the miles across all corners of Bristol and beyond to help the Hospice. Thank you.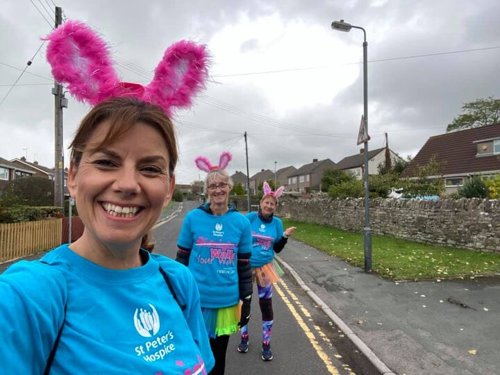 How to pay in your sponsorship money
All the donations you've kindly raised on an online giving page like JustGiving or Facebook will come to us automatically without you having to do anything else.
If you have any cash donations, you can send it to us by donating through our website, or by posting a cheque made out to "St Peter's Hospice" to our fundraising office: St Peters' Hospice, Block C Estune Business Park, Wildcountry Lane, Long Ashton BS41 9FH.
Every step makes a difference for the patients and families who need our care through the most difficult of times, day and night. We need your support now more than ever, and every pound you've raised from taking on this challenge will make such a difference to local patients and their families when it matters most.
Location
Virtual
Date
03 October 2020
Until 10 October 2020
Entry fee
£12
Your entry fee includes a t-shirt, glitter and a new finishline prize. Your entry fee covers the costs of putting on the event so every pound you raise or donate can support local patients and families.