Volunteering does me the world of good!
15 Dec 2020
Volunteer Stories
Pat heard about St Peter's Hospice through friends who had been helped when they lost loved ones, and decided that she liked what we did. She has now been volunteering at our Broad Street shop for two years, with almost another two years clocked up before this at our other shop in Chipping Sodbury.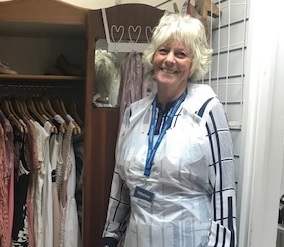 "After I stopped working full time, I realised how much I missed having people around me and the camaraderie. So volunteering in the shop seemed a good solution to that. It's just such a laugh and it's a lovely atmosphere. It really changes your mind-set, talking to other people in different situations; it makes you thankful for what you've got.
"I had no concerns returning to volunteering after COVID, as I knew we'd be looked after, and we were. I felt completely safe and the training from the paid staff, Annie and Melissa, was brilliant. Everyone here makes you feel very appreciated, which is wonderful.
"I've already said to a few friends of mine – just try volunteering, do a taster session and see what you think. I enjoy it so much and have made such great friends working here; it really is a lovely environment to work in."
Back to News