Dan volunteers in the Hospice kitchen
06 Apr 2021
Volunteer Stories
Dan, an award winning chef, volunteers in our Hospice kitchen at Brentry. He started his role a few months ago when he saw that the Hospice was struggling as a result of the pandemic.
"When I come into the Hospice I have no idea what I'll be cooking. Head of Catering Services, Louise, creates a menu each day which is always full of new and interesting dishes. If a patient doesn't want something from the menu then we're always happy to make them whatever they want, so long as we have the ingredients in the kitchen!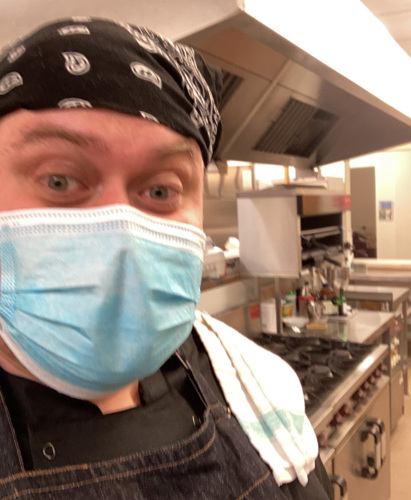 "My current paid job doesn't involve cooking so it's good to get back in the kitchen to cook for people. It's really nice to be able to give back to the Hospice, both myself and my wife have lost grandparents to life-limiting illnesses so we know how it can affect families. My wife lost her grandad at the Hospice, they did so much for both her and her mum so there's a definite personal connection with it."
Back to News