Become a Hospice Volunteer
05 Jun 2019
Volunteer Stories
This week we're celebrating Volunteer Week here at the Hospice. Did you know we have over 1,460 volunteers covering 20 different roles?
Volunteers play a vital role for us and there's something for anyone interested in supporting patients and families, giving something back, or learning new skills.
Tracey from Yate, shares her reason for becoming a Hospice volunteer: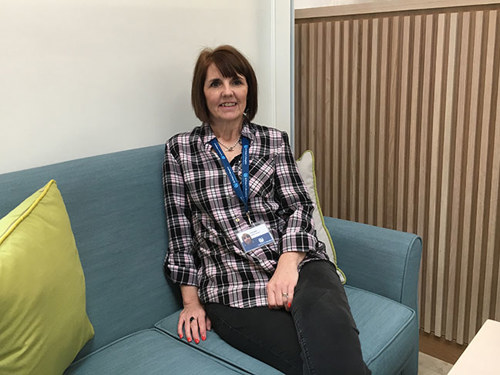 "My dad, Gordon received help from the Hospice at Home service and as a family member I also benefited from this support. Sadly Dad passed away in 2014 and a few years later in 2016 I made a decision to dedicate some of my time to help give back to the Hospice".
Tracey, who also works at a financial advisors firm, initially joined St Peter's Hospice one day per week as a Network Neighbour, providing companionship and support to people living with life-limiting illnesses at home. She's now a volunteer at our Inpatient Unit in Brentry.
"I like that I can provide a listening ear and a shoulder to lean on to both patients and their families, it means a lot. The Hospice has such a positive atmosphere. To anyone thinking of volunteering, I say 'go for it' it's very rewarding".
Sandra from Downend volunteers in the Hospice Coffee shop
After being made redundant 3 years ago, Sandra was keen to continue working until retirement, and wanted to do something useful with her time. At first she was a bit apprehensive about helping at the hospice, thankfully she took the plunge and helped initially as an Inpatient Unit volunteer and is now a volunteer at the Hospice Coffee shop in Brentry.
"It's such a friendly place to work, the surroundings are beautiful and peaceful it's a lovely environment to work in, plus I feel like I'm giving a little bit back."
Sandra helps to clean and open the coffee shop, as well as serve and prepare a selection of food and drinks for our visitors.
If you're interested in volunteering, we'd love to hear from you.
Find out more about Volunteering Opportunities
Back to News