Caroline Quentin Celebrates One Year of our Inpatient Unit
21 Nov 2019
Room to Care Appeal
We were delighted to welcome back our Room To Care Appeal Patron Caroline Quentin to our Inpatient Unit today, one year on from her announcing the success of our Appeal and saying a huge thank you to the people of Bristol and the surrounding area. The Inpatient Unit has supported over 250 patients and families over the past year, patients like Marcus Batchen who spent his last Christmas in the Unit and Mike Freeman who was our very first patient. Marcus and Mike's families joined Caroline today and expressed what a difference the Inpatient Unit had made to them.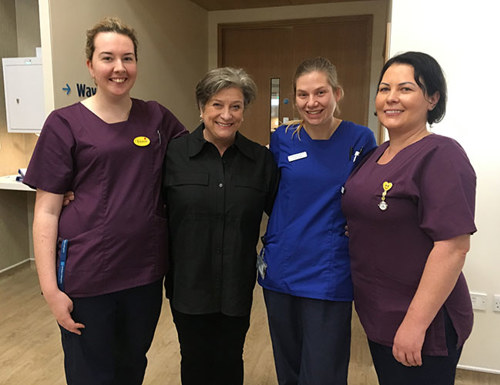 Tim, Mike Freeman's son told us "We'd had little experience of serious illness, but the Hospice was a guardian angel that cradled us. It was a full holistic management of our lives from being welcomed in, to care after dad died. Dad felt safe and comfortable and mum was able to stay with him for two weeks. The Hospice staff have time to look after patients, which in turn gave us time to spend with dad. Happy birthday to the Hospice."
Caroline said, "Here I am one year on at the incredible Inpatient Unit and it is extraordinary. The building and gardens look wonderful and people are feeling cared for and loved and supported. I'm so proud to be a part of it. The Inpatient Unit is the tip of a beautiful iceberg of care that takes place out in the community across Bristol. The levels of service and care and expertise are exceptional, but that comes at a cost of £7.5 million per year. Thank you for all your support and keep it coming."
We still need your support to maintain this level of care for patients and families. As well as caring for patients in our Inpatient Unit, we care for many people in their own homes through our Community Nursing and Hospice at Home services. Please continue to support the work we do and the care we provide, if you'd like to donate please visit stpetershospice.org.uk/donate
Back to News