Coral's Vegan Banana Cake
05 Mar 2019
Community
Fundraising volunteer, Coral has given us this yummy recipe for her vegan banana cake to get you started this March for Ready, Steady, Bake!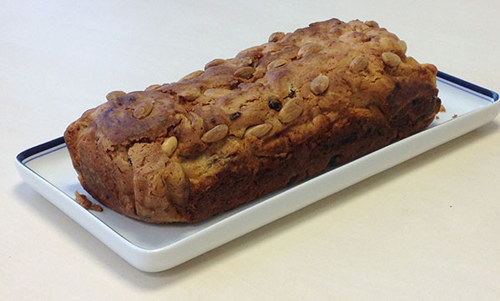 Serves 8-10
Prepare 20 minutes
Cook 1 hour 10 minutes

Ingredients
150 ml sunflower oil
3 ripe bananas ( about 350g peeled)
225g caster sugar
175 g dairy-free almond milk yogurt
½ tsp vanilla bean paste or vanilla extract
285g spelt flour
1 ½ tsp baking powder
½ tsp salt
25g cacao nibs
50g flaked almonds
Whole almonds to decorate
Method
Heat oven to 180°C. Grease a 2lb loaf tin and line with baking parchment
Mash the bananas
Stir the oil, sugar, yogurt and vanilla paste together in a large bowl until combined
Stir in the flour, baking powder, salt and mashed banana followed by the cacao nibs and flaked almonds
Pour mixture into tin and decorate with the whole almonds
Bake for 1 hour – 1 hour 10 minutes until a skewer inserted into the centre comes out clean
If it has browned too quickly cover loosely with baking parchment
Cool in the oven for 10 minutes then lift out on to a wire rack to cool completely
Ready, Steady Bake!
If you love baking and would like to support the Hospice, you can take part in Ready, Steady, Bake during March. To get involved, just organise a bake sale, coffee morning or tea party and invite as many people along as possible.
Back to News