An interview with our CEO, Frank Noble
05 Oct 2020
Support Us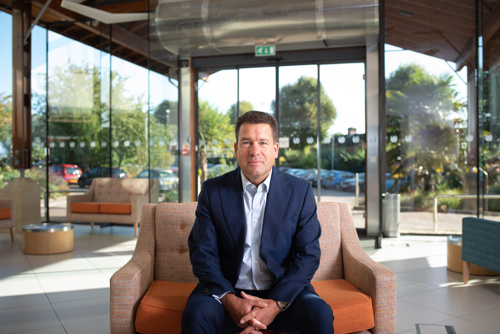 Is there an update on your financial situation?
We still cannot say 'exactly' where we are financially because we are facing so much uncertainty. We don't know what the virus will do in the coming months, nor the impact on our ability to fundraise for the medium to long term. At this stage, we don't know if there will be more support from central government or our local NHS commissioners. 
What we do know is that without further funding we expect a deficit of at least £2m this year, and it could be higher, and that if we don't receive more income and change the way we operate that this deficit is going to only get bigger, thereby threatening the existence of the Hospice. 
We are working hard to understand the scale of what we are facing, in so far as anyone can in such complex times. 
What cuts do you have planned?
Making decisions that impact our services is not an easy task, and there are a lot of different elements to consider. The cost side is just one part of the decision-making process.
For example the changes to our Day Services are down to the inappropriateness of hosting even small groups of vulnerable patients at the Hospice. We expect Day Services to remain closed in its original format for a significant period, and when we do open the structure may be different as patients needs may have changed. In the meantime we are getting ready to offer such services virtually. 
The decision to reduce available beds in the Inpatient Unit is down to staffing levels - and we feel we are not in the position to use agency support until we have a clear picture of our finances. The bed situation is under constant review. 
Won't the government or NHS support you?
Hospices have been given additional support by government grants which came to an end in July and which we benefitted from. Without those grants, our situation would have been a lot worse.
In normal times 19% of our funding already comes from our local NHS commissioning group. They are extremely sympathetic to our position but as you can imagine the NHS budgets are extremely stretched. We are working very closely with them to explore what is possible going forward.  
Does the Hospice have reserves (savings) that can protect it?
Thanks to your past support, we had reserves (savings) that we could draw upon during the past few months. Without significant additional funding or with a significant cut to our costs, we will use our reserves and will not be in a position to face what remains of this pandemic or weather future shocks. Like any well managed organisation we have to keep some reserves to support ourselves in the future in case there is another unforeseen crisis. 
How much money is needed to restore the Hospice to full service?
Sadly this is not a straight forward question to answer. We have to consider how to return the Hospice to full service in the medium term as well as the longer term uncertainties around sustaining our wide reaching services.
In 2019 it cost us just over £8.7million to run the service, with costs increasing year on year. 
We need to be able to provide a service that we can afford with our current funding levels and that means taking the opportunity to understand how we can work differently and more efficiently. 
How will patient care be affected?
Every decision we take is guided by the aim of minimising the impact on patients.
We are working hard to preserve the core of our traditional services and also looking at how we harness technology such as virtual Day Services to keep providing high quality holistic compassionate care focused on patients, families and carers. 
How can I help?
The Hospice exists because of the generosity of supporters like you. Our patients and their families have never needed you more. There's lots of opportunities to get involved and help the Hospice. The letters, emails and calls that we've received have given us all a massive boost and we can't thank you enough for reaching out. We know that with your help we will be there when it matters most for the sickest and most vulnerable in our community. Thank you.
Back to News