Trevor's story
01 Feb 2020
Patient & Carer Stories
Trevor has terminal cancer. Here he describes how he didn't know St Peter's Hospice existed until he was referred to us. So he has been bowled over by the care and kindness he's received from staff and volunteers here - and he thinks what we do for the community is 'nothing short of amazing.'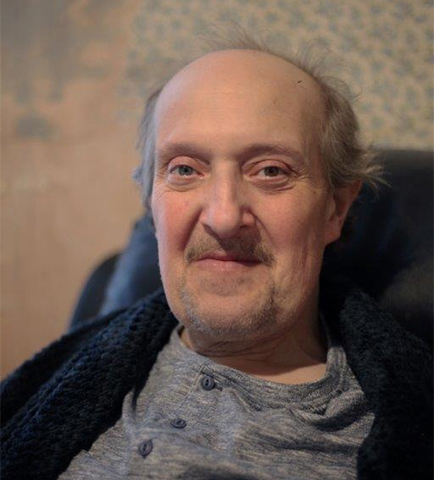 "I was referred to the Hospice in 2018 after being diagnosed with prostate cancer that has since spread to my bones. My referral was quick and I was instantly inundated with help, which was so welcome. Initially I was in shock and experienced a range of emotions. Having to think about death is frightening but I've been moved by the kindness I've received from everyone here.
I unfortunately had to leave my job at the Post Office sorting office, but I've found ways to cope. I'm a huge music fan and have some state-of-the-art speakers in my house! I feel like music has really helped me through this process.
I have a wonderful St Peter's community nurse called Cate who visits me regularly. She's incredible - she reassures me when I'm feeling emotional and she told me that I'm not dying, I'm living with cancer. She looks after all of my medication needs and we have such a good laugh when she comes round.
I'm also going to Day Hospice every Thursday which is great. There's no stigma here - I can chat to people in confidence and we're all in the same boat. It's a hub of activity when you're here. You can take part in things like crafts, or just relax and have a cup of tea and read the paper, depending on what mood you're in and how much energy you've got.
The Day Hospice staff and volunteers are amazing - nothing is too much trouble for them and they make you feel instantly at home. And if you're not able to get here by yourself, it's no problem. I have a volunteer driver who comes and picks me up from my house. I'm always greeted with a cheery hello, and then I get dropped home again after!
I had no idea the Hospice was such a marvellous place. In fact, I didn't even know it was here until I got referred. It really does bring a whole new meaning to the word 'hospice'. No-one is moping here (although it's allowed if you want to!). It's bright, airy and friendly. Life has gone from being grey and dull to an explosion of love and kindness.
There's not a part of my body that hasn't been affected by my illness, not to mention the emotional thoughts that appear in quiet moments of reflection. But the Hospice staff really couldn't be doing more to support me. What the Hospice does for people is invaluable to the community. It's nothing short of amazing."
Back to News