Working Together to Support People with MND
23 Aug 2021
Patient Care Stories
"Helen is fantastic to work with as she is brilliant at her job and is an essential and central link for many professionals to coordinate different aspects of care for patients with Motor Neurone Disease." Dr Sophie Tower, St Peter's Hospice
To recognise Motor Neurone Disease (MND) Awareness Day we recently introduced you to Sophie, one of our Hospice doctors. Sophie talked us through how our Hospice team support people with MND, and also touched on how we partner with the wider healthcare network to collectively provide the best possible care and support we can.
Someone who sits at the centre of this wider network and works closely with us is Helen Madden. Helen is MND Care Coordinator at Bristol's MND care centre, based at North Bristol NHS Trust. Bristol MND care centre is one of 22 care centres and networks financially supported by the MND Association. Helen is the single point of contact for people living with MND in our area, supporting them through the initial diagnosis phase and then continuously through their whole journey with the illness.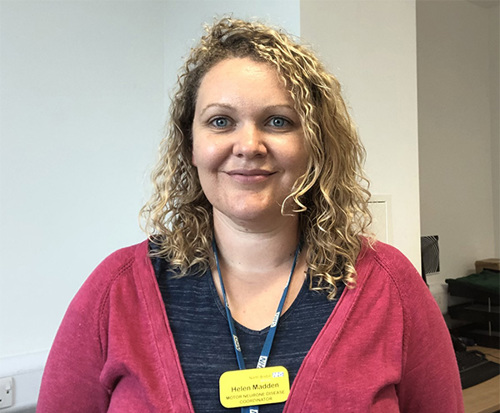 A key part of Helen's role is to work with all the healthcare staff involved in the care of someone living with MND, helping to make the process feel smooth and as stress free as possible. There's a large number of health and social care staff who might be involved in this care and support, including GPs, District Nurses, Physiotherapists, Occupational Therapists and Speech and Language Therapists.
People with MND and those who care for them will often be referred for palliative care, which is where we come in. Helen believes it is important to introduce hospice care as early as possible to dispel any fears that people may have about what this means. Often when people think of the Hospice they think of dying, but in fact we're here to enable people to have the best quality of life they can, as they live with their illness. Our support is also for people's families.
For Helen, there's real value for patients in being referred to the Hospice. Whether they're being supported at home by one of our Community Nurse Specialists, attending one of our Day Service groups or admitted to our Inpatient Unit, we will support them in their individual needs. Our hospice support is focused around the physical, psychological, social and spiritual issues that can arise when someone is living with a life limiting illness. Sometimes our support might include enabling conversations about planning ahead for when they are less well.
Here at the Hospice we know that by working with other healthcare professionals we can offer more to the patient and those who care for them. The work Helen does to enable that is invaluable.
Back to News