Virtual Day Services at the Hospice
02 Dec 2020
Patient Care Stories
This year everyone in the UK has understood on a deeper level the need for connection. A need to be connected to others for our health and mental wellbeing. The Day Services team provided a hands on holistic approach to patients at the Hospice, however when COVID-19 forced lockdown it was devastating that it had to stop.
Katie Miller, Day Services Manager and her team at the Hospice adapted quickly during lockdown to create 'Virtual Day Services'. There are currently two programmes running: A Social Support Group for patients and a Carers Support Group. These are both six week online programmes that aim to help patients and carers focus on their wellbeing. We interviewed Katie so she could tell us first-hand what a beneficial programme this is.
Tell us about your service?
Katie: We run structured programmes that aim to give the participant a broad experience of different activities; these include relaxation, exercise, reflection, craft and self-care. The programmes are designed so that people can engage with one another, share experiences and gain support in a friendly and supportive atmosphere.
How many people will there be?
Katie: We aim for a maximum of six people in each group. The groups are run by two staff. We want to provide a safe and comfortable environment where people can share feelings and their experiences in a positive and uplifting way.
How can I be referred?
Katie: You can ring our Clinical Advice Line on 0117 9159430 and ask for a referral or speak to your Hospice nurse if you have one.
What are the benefits that you have seen?
Katie: We have seen so many incredible things happen from this. People have connected to others whilst being isolated at home. They have gained support and companionship at a time that is very uncertain. The programme is uplifting and can make a difference to people's lives.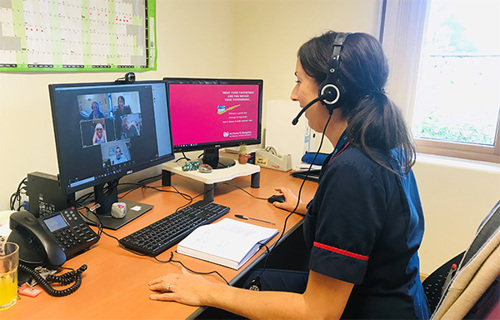 This programme is a safe space where you can talk, laugh, cry, share and relax with others who are on similar journeys to yours. The courses have been running since September and the feedback from both patients and carers show just how powerful this programme is...
Patient: "I find the companionship of similarly placed people very comforting."
Patient: "I know actual face to face meetings can't occur, but seeing each other on Zoom and being able to talk is such a relief."
Patient: "The virtual face to face was great for morale."
Carer: "I have found this course extremely helpful in improving my wellbeing."
Carer: "I really enjoyed the closeness of the group. The sharing of our feelings. The chance to allow our feelings out in a secure environment."
If you feel that you would benefit from our Social Support programme or Carers Group, please call us on 0117 915 9430.
Back to News