St Peter's Hospice raises flag to launch Bristol Pride celebrations
01 Jul 2019
Patient Care Stories
We marked the start of Bristol Pride fortnight with a special flag-raising at Brentry on Monday.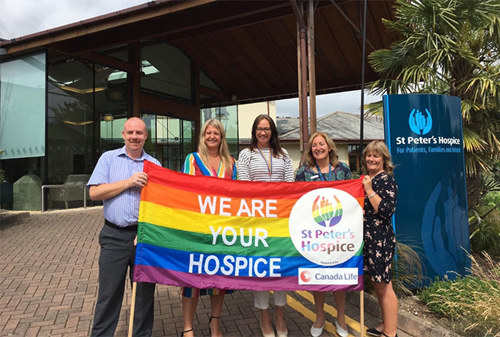 Staff and volunteers raised the rainbow flag outside the Hospice, as well as unveiling their own bespoke Pride banner for the festival representing all the communities the Hospice serves with the statement 'We are your Hospice'.
Caroline Mundy, Clinical Community Engagement Lead for St Peter's Hospice, said: "At the start of Pride Fortnight in Bristol we are delighted to be joining this celebration and underlining our support for the whole of our community.
"St Peter's Hospice believes in equality and that everyone is entitled to the best quality end-of-life care and support. We recognise and celebrate diversity, providing individualised care for the whole person.
"We are working to improve access to and understanding of the services we provide. Bristol Pride enables us to show our commitment to the local LGBT+ community and continue building our relationships throughout Bristol and the surrounding areas we serve. We are grateful to Daryn and his team for their tremendous work in creating this festival."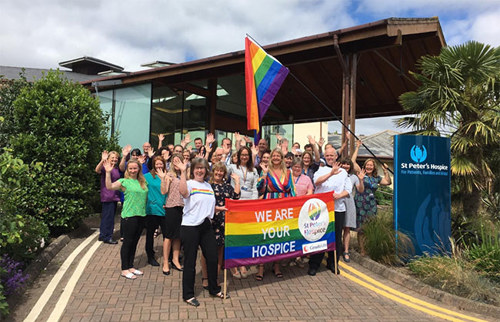 Chris Benson, Director of Patient Care at St Peter's Hospice, says "Bristol Pride day is a celebration of our community and great fun. The festival is also a real opportunity to demonstrate that we are here to support everyone in our community, and a chance to engage with future employees and volunteers."
Chris is chair of the St Peter's Hospice's Pride working group and will be representing the Hospice alongside other staff and volunteers at this vibrant festival. The Hospice is an official Pride Partner and will be taking part in the Pride Parade as well as having a marquee on the festival site offering information and advice, glitter, face painting and freebies!
We are thrilled to have the support of Canada Life, our headline sponsor for Bristol Pride, who will also be taking part in the celebrations this year.
Back to News