Paula shares her experience of grief
13 Nov 2019
Patient Care Stories
Paula lost her husband Spencer one year after his diagnosis of terminal cancer on 14 October 2019. She asked us to share her experience of grief in the hope that it might help others who find themselves in the same position...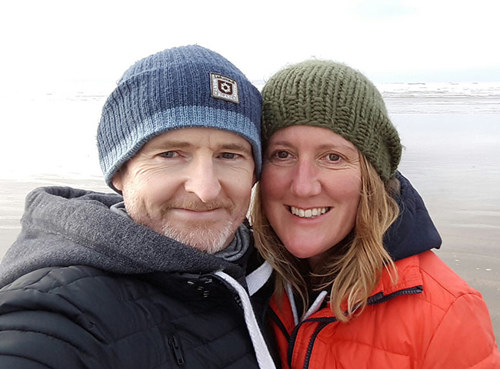 "This week, following the loss of Spencer, after 11 days in St Peter's Hospice, I have mostly been calm. Quiet, calm, capable, resilient....and yet around me I feel the weight of expectation that I should perhaps be falling apart and constantly crying. Why aren't I?
"This may be interpreted as me not caring. Not true. I loved that beautiful man more than anything else in life. Perhaps I haven't accepted it yet. Not true. I have watched this happen over the last year, I have sat through every appointment, I listened and learned and I witnessed the deterioration to the final moments. I accept it's happened.
"But I did grieve exactly as expected. I fell apart, I was sick, I couldn't eat, I couldn't sleep, I cried constantly, I'd wake up hoping it was a dreadful dream then it would hit me again and again. I had medication from the doctor to help me cope and I didn't know if I could go on. But this was October/November/December 2018... a year ago.
"The day I sat in an appointment with Spencer for the results of a colonoscopy to hear "I'm so sorry, the tumour in your intestine was found to be cancerous. Unfortunately it has already spread to your liver. It's incurable and inoperable. We will refer you to our multi-disciplinary team who will talk to you about treatment options and you will need to weigh up quantity versus quality of life." That's the day my grief started...
"That is the day cancer started to steal my husband from me. His positivity was replaced by fear. His interest in a variety of things was replaced by a focus entirely on cancer. His physical health started to decline and the things we could do together changed. His confidence that as an engineer he could fix anything was shadowed by the knowledge that maybe this was too big to fix and he understandably found that very hard to cope with.
"We also had our future stolen and grieved that. A whole set of language disappeared from our vocabulary. "Next Christmas", "Next year", "One day", "When we retire", "In a few years". All of these phrases were lost to us. All I saw ahead was a black hole and life became focused around not letting him fall in it. Meals became purely about nutrition. Time alone felt weighed down with fear and despair. Time in company felt alienating as we felt we were in a bubble of horror and everyone else was 'normal'. Life became focused around spreadsheets of medication and analysis of side effects. We lived life in 3 month chunks, never daring to look beyond the next CT scan.
"But this intense grief was lonely. There were no flowers, no cards, no people coming round to hug me, no official time off work to grieve. It consumed our every waking hour and we both lay awake in the night with our fear, holding hands tightly yet not daring to speak in case we broke down completely. Yet to others there was no loss yet, so our grief was private and painful.
"We received counselling to try to help us get through those days. My counsellor said she felt she was doing grief counselling with me. I also looked up and researched 'Anticipatory grief' and found that what I was going through was entirely normal. Grief in advance of death. It doesn't sound positive and despite this huge grief I gave my all to remaining optimistic that the doctor might be wrong and we'd beat this, while grieving the fact that even while fighting it the loss of what we had before was overwhelming.
"I hope this helps explain that if there is a grief journey, I'm one year down the line. The pain of loss is great but it's not as overwhelming as it was and when it does hit me it's often about pre October 2018 Spencer. That's the man who I miss every day and that's the person whose loss can floor me and reduce me to tears.
"With Monday's final loss comes a continuation of the grief that began a year ago, but the intense fear of what the day might ask of me and the constant fear of losing him has gone. No more terrifying emergency hospital dashes, no more home nursing and feeling completely out of my depth, no more seeing pain and anxiety in the eyes of the man I love. So in some strange way it's easy to see why this period for me feels calmer.
"My 14 year old son said to me many months ago on one of the 4 times Spencer nearly lost his life, when I was crying with fear and pain, "Mum, right now you are really sad every day and you are having to do really sad and frightening things. In the future, if we lose Spencer, you will be really sad but you will be able to do happy things, so maybe it will be easier." In the midst of things I could not even comprehend that his loss would make anything better but in the calm, aftermath of a truly terrifying year when I wake up deeply sad but not scared any more, I do understand that what he said was wise...
"It's important to me to share this because whenever in life you don't feel or react the way people expect it adds the burden of guilt to your already troubled and sad mind, and nobody should have to go through that. I had two friends who had experienced this too but at the time had not got anyone else in their lives to say "How you feel is ok" and they suffered because of that. I am stronger because of their shared experiences so if you too are in a situation like this then maybe hearing this will help you make sense of it too."
Thank you to Paula for sharing her story and describing her experiences so eloquently. She makes two very important points; that everyone is different and shouldn't be judged for how they are feeling and behaving just because their experience isn't ours, and anticipating the loss of someone is grieving and a time when support is very important.
If Paula's story has raised any issues for you, do please call us on 0117 915 9544. We are here to help families from the time a person is referred to the hospice and anticipating a loss to long after someone has died.
Back to News