Our end-of-life care work in nursing homes
01 Nov 2021
Patient Care Stories
Jane Tyson, Community Team Leader, talks about our end-of-life care work in nursing homes.
"The role of a Community Nurse Specialist (CNS) is a varied one and we find ourselves in many different environments. As well as people's homes, we will frequently also visit nursing and residential care homes. Here, as with all the places we visit, we support patients and their families with symptom control, advice, and emotional support.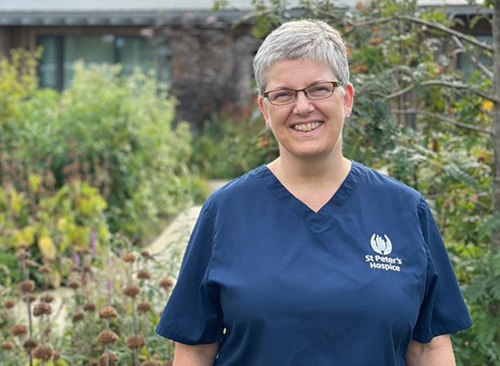 "In these environments a large part of our role is to support and informally educate care staff, and advise and liaise with other healthcare professionals. It's perhaps a common misconception that the Hospice is the best or only place to be cared for or to die, or that CNSs are the only ones who can have discussions around planning for dying. Complex symptom control and end-of-life care is often skilfully managed by nursing and care teams in homes, with our support. Where necessary our consultants can do joint visits with the CNS team or GPs so that patients can remain in their care home and not be subject to unnecessary moves. Our 24-hour Clinical Advice Line and CNS Administrators play an important role in offering complete and timely access to our Community Nurses and specialist palliative advice.
"Things have changed significantly during the pandemic, as all the care homes have had to be so very careful in protecting their clients. We're all vaccinated where possible and regularly tested, but in order to help protect this particularly vulnerable patient group, we're tested again before entering a care home. This has affected our ability to visit as often as we were, and much of our work has had to switch to either phone or video call. It's not just us this affects, but also the families of our patients who cannot visit as frequently as they would like. Much of our role is to support them and again, of late, this has had to be by phone.
"With an ageing population and increasing limitations upon resources, we anticipate that our skills as CNSs will continue to be used by nursing and residential care homes. We look forward to continuing this close partnership working."
Back to News