New ways of working for the Hospice at Home team
11 Oct 2021
Patient Care Stories
Our Hospice at Home team do what it says on the tin: caring for patients and supporting loved ones in the comfort of their own home. They're there to provide support and care in the last weeks of someone's life.
This year has seen a big shift in the way they work, with a huge expansion in the area they cover and therefore the impact they have. It also means that St Peter's Hospice is now the leading provider of palliative care in our region. Jonathon, our Hospice at Home Leader, tells us more.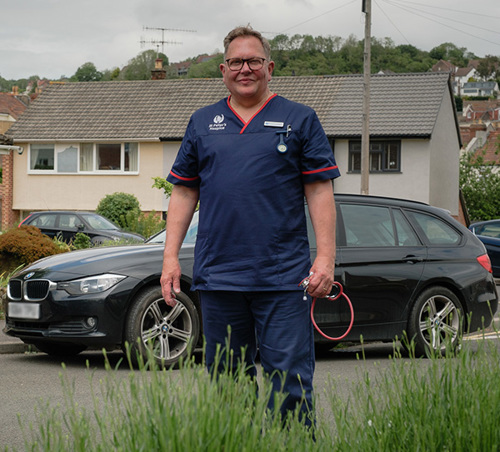 Image credit: ©Vanessa Simpson Photography
"Earlier this year the decision was made to merge all end-of-life care providers in our area under the St Peter's Hospice umbrella together. Previous to this there were four different organisations at work, meaning patients could see numerous different people, uniforms, and ways of working throughout their care journey. Now, we provide care in a patient's last four weeks of life, working alongside District Community Nurses and CHC Care Agencies. We work across a much greater geographical area now, and we've increased our workforce as well. Many members of staff came to work for us when the change came into force, and we've recruited new Nurses and Healthcare Assistants. Our team has gone from 14 to nearly 50. This expansion has only been made possible by increased funding from the NHS.
"It's such a welcome change for us here at the Hospice. It means we can give patients and their loved ones the continuity of care that makes a massive difference when there's already so much to deal with. It also means that we're reaching even more people. Before we were seeing about five patients a day; now we can see up to 25. Even more people are receiving our gold-level standard of care in their homes.
"The team has adapted to this brilliantly. I'm so impressed with their resilience after over a year of navigating often daily changes due to the pandemic. They've now stepped up and delivered this new change to our service excellently. The new staff members who have joined us are amazing people and have adjusted to their new environment like fish to water.
"It's a new system, so there will continue to be learning opportunities as we go. What's great about it is that we get to create a service that is best for our patients, and continually optimise that based on what people need from us. Our priority as always is to provide something that works as hard as it can for our patients and their loved ones."
Back to News