Maria's story
09 Mar 2020
Patient Care Stories
Maria has terminal cancer. She was anxious when she was first admitted to St Peter's Hospice, but her stay with us transformed her views of hospice care. Here she describes how impressed she has been by the support she has received both in Brentry and from our nurse Jane, who visits her at home. Maria tells us more about the care we've given her (and her dog!).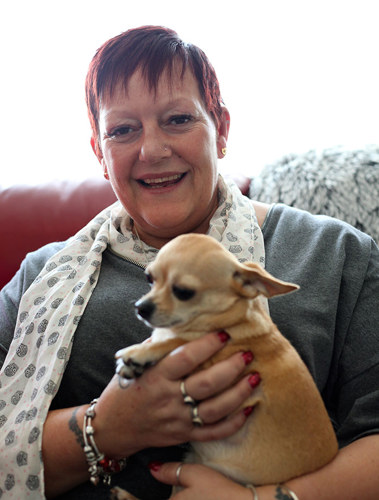 "I was diagnosed with terminal breast cancer in 2016. At the time of diagnosis we discovered that it had already spread to most of my bones, and my liver. The tumour in my breast and liver are being kept at bay at the moment, but my bones are deteriorating quite rapidly. I was actually given 12 months to live when I was diagnosed, something I've heard a few times now but I'm doing well so far!
Shortly after my diagnosis I was referred to St Peter's and introduced to my community nurse, Jane. Jane visits as often as I need her and she's there at the end of the phone for a catch up too. I can tell Jane anything at all - we've built such a strong relationship and she never judges me. She's absolutely full of good advice and if there's something she doesn't know, she always finds the answer.
When my pain medication stopped working, Jane suggested I go and have a chat with one of the doctors at the Hospice. When I got there I was taken aback. The Hospice is so spacious and homely. I needed to stay there for a bit for monitoring while I changed my medication and if I'm honest, I felt quite anxious about that. I'd always thought a hospice is a place you go to die. That was until I arrived as an inpatient at St Peter's.
I was immediately put at ease and made to feel so welcome. I had the most beautiful room with floor to ceiling windows that open fully, so if you can't get up you can be wheeled onto the patio in your bed and still experience the lovely gardens. I was even able to have my precious Chihuahua Ronnie Roo come and visit me - and the chef made sure he had his dinner too!
I'm still under the care of Jane my nurse and I feel so fortunate to have her. I know that when my end of life occurs, she'll be there to support and reassure my husband. She's aware of my wish to be able to die at home if possible.
But the Hospice is my second choice. Nothing was too much trouble for the lovely staff there, even a cup of tea and ice cream at bedtime! They made me feel comfortable, individual and respected. Some staff would even stay with me after their shift had finished for a cuppa and a chat if I was feeling tearful. My stay there really exceeded all my expectations. I've worked in care all my life and I know a good carer when I see one. Well, St Peter's Hospice certainly has the cream of the crop."
Back to News